Job frauds: lost money online?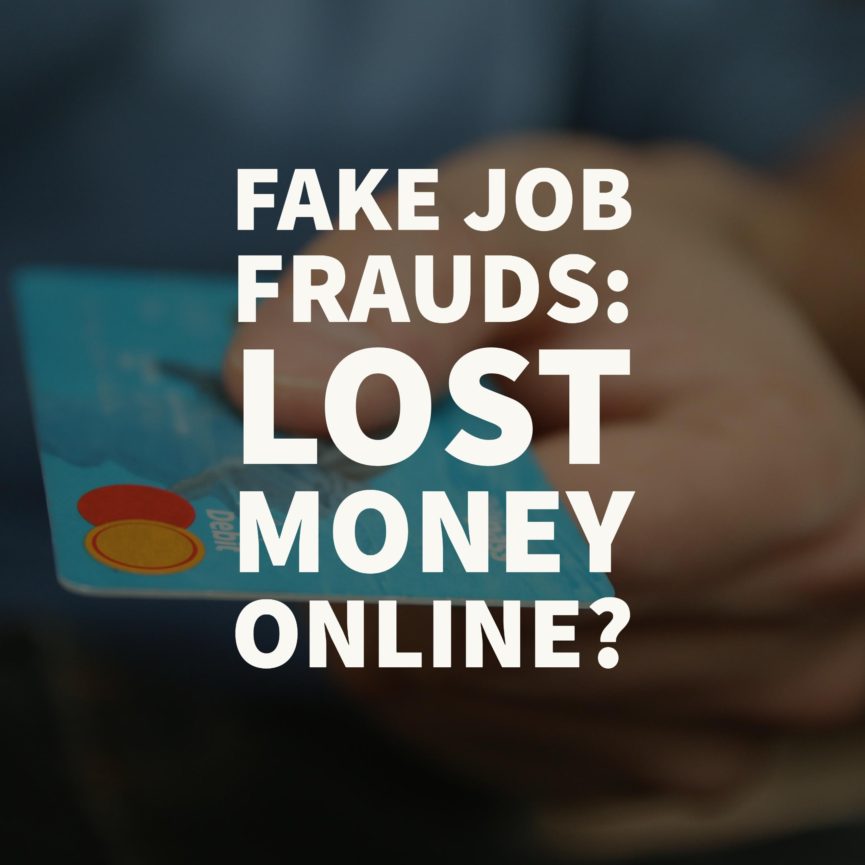 Job frauds?  You mean these days? Who falls victims to these frauds, It is so careless and stupid to fall prey to such a fraud.
Well, I am not of this opinion. Fake job frauds are on the rise with every passing day because of easy information access to criminals. At that peak of frustration and agony when one does not have a job, he does fall into such traps. Something similar happened with Jyoti, a native of Jaipur who lost about 7500 INR to such an online fraud. She had registered with Naukri.com, a very popular job search portal.
One fine day she receives a call from a number claiming to be from Naukri and telling her that her profile had been shortlisted for a job. She was made to take an online test after a payment of Rs. 1500 via Paytm. This is a very standard modus operandi of job frauds these days. When she did not clear the test,  she asked for a refund. And as professionally as it happened, they asked her for the card details of the card she had used on Paytm to give them that money. She complied even with all her other credentials. Another 6000 INR is withdrawn, this time leaving her with no money. They ignored her thereafter leaving her no options. Ever since, she had been making cold calls to them and requesting money. Skeptical about going to the police, it is my personal claim (not a haywire figure, but a claim) that at least 70% people do not report such crime. But when they do, like an old retired teacher did from New Delhi, he was told by the police that 20,000 is a very petty loss, we are dealing with cases that involve lacs of rupees. Of course, the file is there but it is under a lot of weight. Another officer moral policed a girl in Bangalore about sharing her intimate pictures over the Internet leaving her with no choice at all. But this post is not about that.
Also read our post on What to do if money gets withdrawn from your account fraudulently. 
Anyway, Jyoti reached out to us for help. My first instinct, still as a law abiding citizen is to request her to go to the police and ask them for help. She was panicking. That money might not mean a lot to you reading this but to her it meant a lot, probably close to everything. As you read this, the police is investigating this case and they will find out the culprits hopefully.
But in this case, we took a stand. Yes, I made a call to these criminals and used all tricks in the book which of course are not something to be divulged here. But I am happy to share that whatever loss Jyoti had suffered 2 weeks ago, has been compensated and the money has been returned in totality to her. Yes, all of the 7500 and by the criminals themselves. There are so many cases like this job fraud and others that we get everyday and in so many we have the culprit's Paytm numbers, their mobile numbers which are active but there is so little that we can do in the non-law-enforcement space. Of course, we do report it to the authorities for action and they do take action but these incidents call out for a better public-private partnership model with the state at least in the domain of reporting and solving cyber crime.
The dynamics are different, the vectors are diversified but the losses, they are abominable and awful.