Is the circulation of e-papers on Telegram legal?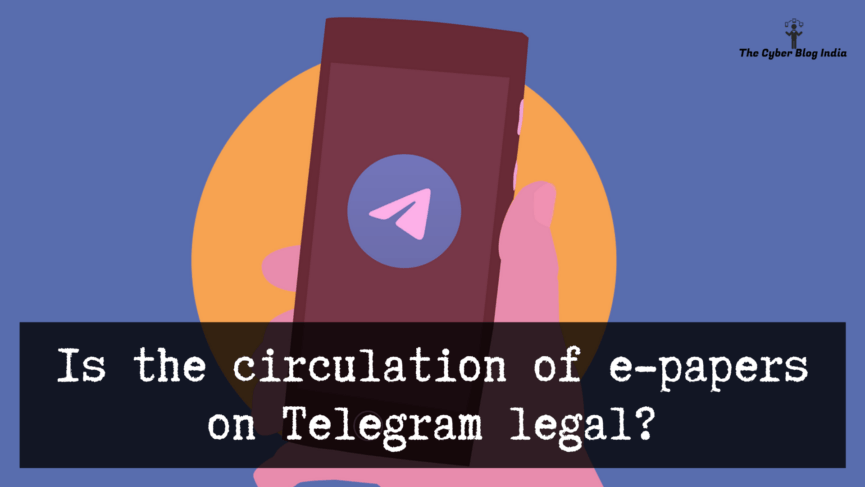 COVID-19 restrictions have severely affected the distribution of print media. As a result, e-paper subscriptions have witnessed a rampant growth as traditional news houses are switching to digital papers (or e-papers) for their print daily. Simultaneously, digital copies of newspapers are increasingly being shared across social media platforms and instant messaging applications like Telegram and WhatsApp. On May 29, 2020, the Delhi High Court passed an ad interim ex parte order against Telegram application to block any channels involved in sharing Dainik Jagran newspaper in PDF format within 48 hours.
Initially, Dainik Bhaskar published a news report stating that circulation of e-papers on WhatsApp is illegal and group admins will be liable for the same. They relied on an advisory issued by the Indian Newspaper Society (INS) to its members. This news report was fact-checked by India Today which stated that sharing PDFs of newspapers is not illegal as long as e-papers are freely provided, i.e., without a subscription. Based on this classification, India Today's team termed this claim as half true. For a common man, different stances by leading media houses can be a confusing situation, and in this article, we aim to present a more precise picture by analyzing it from the perspective of copyright laws.
Understanding the classification of e-papers: A terms and conditions based approach
India Today's fact-check report is definitely informative, but there is a major issue in how it strictly classifies newspapers based on their subscription model, whether paid or free. It misses out on the point that to determine the legality of circulation, we need to probe into the terms of usage (or terms and conditions) which govern usage, circulation, and distribution of such e-papers. On the one hand, certain media houses have a clear guideline in place to control access and distribution of their e-papers. For example, The Telegraph's one of the terms clearly states that
ABP grants you permission to only access and make personal use of the site and you agree not to, directly or indirectly download or modify/alter/……., except with the express consent of ABP.
Along with this statement, the Telegraph website provides for a dedicated login section. This clearly shows the intention to keep track of users accessing the content. In this scenario, the circulation of e-papers or PDFs of The Telegram cannot be considered legal. Apart from the terms and conditions available on the website, the only other way to determine the legality is through the Copyright Act, 1957.
Section 52(1)(a)(ii) and 52(1)(a)(iii) of the Copyright Act, 1957 may allow a user to circulate copies of the copyrighted work if it is for criticizing or reporting of current events, i.e., fair use. However, these provisions would not allow a wholly copied piece of content to pass the scrutiny if it is not intended for any transformative usage.
Distribution of e-papers: Legality and circulation
The main issue that has landed Telegram in trouble is the confusion surrounding the circulation of e-papers which are freely available, i.e., freely downloadable without any agreement to terms and conditions. If we look at the Telegram's terms of service, content can be reported to the platform if it is spam, violence, child abuse, and pornography. While the Telegram's terms of service remain silent on the issue of circulation of copyrighted material, a user may consider himself free to circulate copyrighted material without any hesitation. It is not a hidden fact that certain Telegram channels facilitate copyright infringement, the chances of being taken down when reported by the users are very less as they are not violating the platform's terms of service in any way.
On the other hand, the Financial Express allows downloading PDFs without any explicit agreement. The Statesman has a clickwrap agreement that pops up when a user seeks to download their e-paper. The user is required to agree to the terms and conditions; otherwise, he would not be able to download the PDF file. When it comes to such clickwrap agreements, a user is bound by the terms if he is given reasonable notice (as held by the US Court of Appeals for the Second Circuit in Specht v. Netscape (2001)). Before this, the clickwrap agreements were recognized as valid by the US District Court for the Northern District of California in the case of Hotmail Corporation v. Van$ Money Pie Inc (1998). While in India, judicial authorities have not yet discussed the validity of such agreements, the Income Tax Appellate Tribunal, Mumbai raised serious concerns about the enforceability of such clickwrap contracts in the case of DDIT, Mumbai v. Gujarat Pipavav Port Ltd (ITA 783/Mum/2010).
This leads us to a question: whether there exists an implied license to circulate PDFs of e-papers in the absence of any agreement to the contrary?
Such an implied license can be assumed to exist if a newspaper publisher makes no effort to keep track of users accessing their content or downloading their e-papers. However, we can arrive at a better conclusion if we apply the doctrine of implied licensing. Owing to the absence of any user agreement, it shall be necessary to determine if the act in question is essential to give meaning to the arrangement between parties. To better understand this concept, we can refer to Field v. Google (2006). In this case, the US District Court for the District of Nevada held that since the plaintiff has an option to opt-out of caching of his web links, Google cannot be held liable for copyright infringement. In other words, Google did not infringe the plaintiff's copyrights, and the plaintiff had granted an implied license to the search engine to display cached links to web pages containing his copyrighted work. In the same manner, it can be argued that unauthorized circulation of e-papers could have been easily prevented by including a clickwrap agreement. In the absence of such an agreement, the readers have an implied license, just like Google had for caching the copyrighted works of the plaintiff.
Conclusion
There does not seem to be a clear-cut way to understand the concept of implied licensing in the context of the circulation of e-papers. It is difficult to justify that circulation would be protected under normal usage. Still, it shall be equally difficult to argue against the fact that a downloaded e-paper without any user agreement would imply a license to distribute it freely. We believe that the latter would be more sensible when we consider why the media houses have made digital copies available in the first place – to reach to their audience beyond traditional modes of delivery. Hence, when it comes to having an implied license to distribute, it shall depend on the terms of use of a newspaper.
In the case of Jagran Prakashan Limited v. Telegram FZ LLC & Ors (CS (COMM) 146/2020) which we discussed earlier, the Dainik Jagran website explicitly states that the website contents are not to be circulated and requires the users to register and pay the subscription fees. Due to ongoing pandemic, they had waived off the subscription fee, but the registration process remained the same as it was before. The Delhi High Court has passed this interim order in light of Section 79 of the Information Technology Act, 2000 read with the Information Technology (Intermediaries Guidelines) Rules, 2011. The court stated that Telegram, as an intermediary, had not observed due diligence and therefore, it cannot claim any exemption or escape liability in this case.
As of now, the circulation of e-papers with user agreements that prohibit circulation or distribution by the readers/users would be illegal owing to the copyright infringement of the concerned media house. For all other e-papers, it is safe to assume that their circulation over social media platforms and messaging applications will not involve any legal issues.
---
This article has been jointly written by Raj Shekhar and Ujjwal Singh. They are undergraduate students at NUSRL, Ranchi and CNLU, Patna respectively.
Disclaimer: Views or opinions expressed in this article, whether impliedly or explicitly, are personal.
---
Edited by Raj Pagariya