Imran Shabbir Gauri v. State of Maharashtra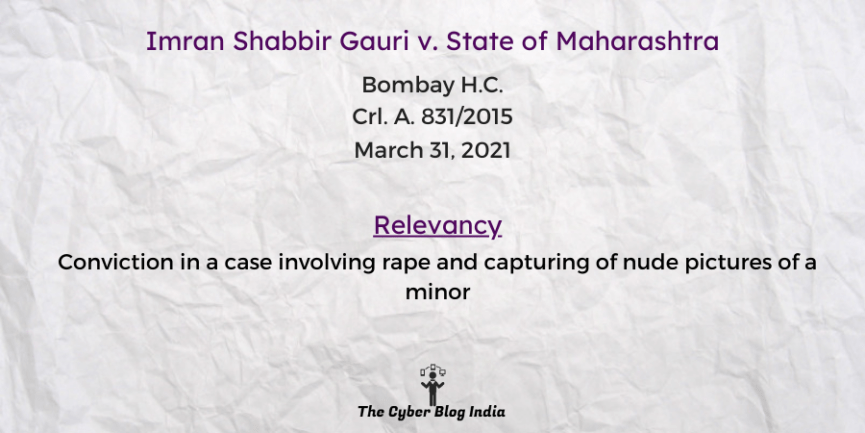 Imran Shabbir Gauri v. State of Maharashtra
In the High Court of Bombay
Crl. A. 831/2015
Before Justice Prasanna B Varale and Justice S M Modak
Decided on March 31, 2021
Relevancy of the case: Conviction in a case involving rape and capturing of nude pictures of a minor
Statutes and Provisions Involved
The Information Technology Act, 2000 (Section 67B)
The Indian Penal Code, 1860 (Section 376(2)(i), 506)
The Protection of Children from Sexual Offences Act, 2012 (Section 4)
Relevant Facts of the Case
The petitioner was the victim's stepfather. He captured several nude pictures of his daughter on his mobile phone.
While the case was in trial, the victim refused to give any statements in court. Although, the magistrate recorded the statement.
The data forensic officer also testified that the four mobile phones, SD cards, pen drive, etc., which the police seized contained pornographic material in them including the victim's obscene photographs.
It is important to note here that the victim did not live with her father. He worked as a watchman in Laxmi Bungalow.
A spot test was done from that location for semen and blood tests. The court referred the victim girl to a doctor for a medical test.
Opinion of the Bench
Even though there is no proof that the accused uploaded or transmitted the images anywhere, he would still be punishable under Section 67B of the Information Technology Act, 2000 as there had been a depiction of a child in obscene photographs in electronic form.
The court does not accept the FSL report which the trial court relied upon because it did not prove the victim's identity in the video. Hence, the bench does not rely on the report to the extent that it was the petitioner who captured the photographs.
The court puts aside the application to the extent of Section 506 and Section 376(2)(i) of the Indian Penal Code, 1860 and allowed the application for Section 67B of the Information Technology Act, 2000.
Final Decision
The appeal was partially allowed.