How to secure your WhatsApp account?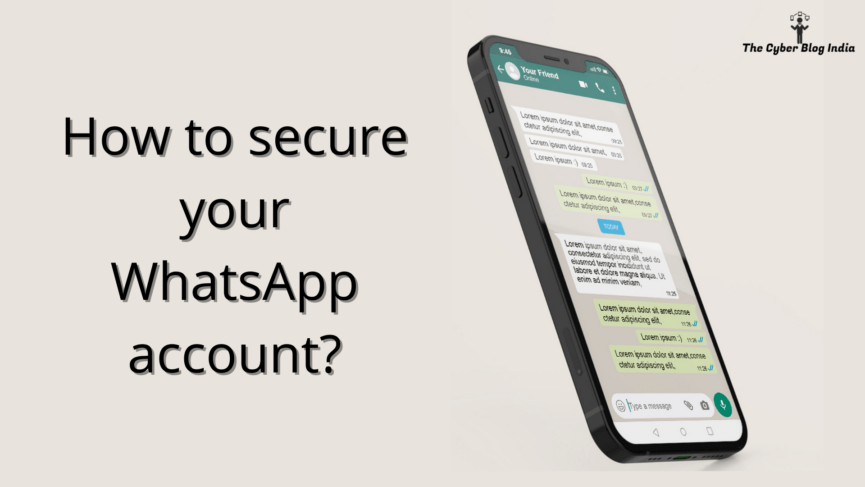 In my last article, I elaborated on various steps that you can take to secure your Facebook account. The focus now shifts to WhatsApp, a common name in every household. There are over 2 billion WhatsApp users globally. WhatsApp is a proper noun that has become a verb. I am sure you have used sentences like ye mujhe WhatsApp kar dena, or can you WhatsApp me this picture? We are heavily dependent on WhatsApp, and with WhatsApp Web, we are even more comfortable. In this article, we look at various security measures you can adopt to secure your WhatsApp account.
Let's start!
Open WhatsApp on your phone. In the top right corner, you will see three dots arranged vertically. Tap here and select Settings from the dropdown.
The application will redirect you to a page that looks like this.
Tap on the Account option, and you will see a total of six options:
Privacy
Security
Two-step verification
Change number
Request account info
Delete my account
Tap on the Privacy option you see, and you will be able to access various privacy settings for WhatsApp. This includes last seen, profile photo, about, status, read receipts, live location, blocked contacts, and fingerprint lock.
1. Last seen
This feature enables you to decide the users you want to share your last seen with.
If you select Everyone, then everyone who knows your number can see your last seen. It does not matter whether they have saved your contact or not. Your last seen tells the other user about the last time you opened WhatsApp. This is not recommended at all.
Instead, you can choose to share your last seen with your contacts only by selecting the My contacts option. Now, only your contacts can see your last seen on WhatsApp.
The third option is to avoid sharing your last seen with anybody. If you select this option, no user will be able to see your last seen. In return, you will not be able to see anyone's last seen as well.
2. Profile photo
Just like last seen, you can allow everyone to view your profile picture. However, any good cyber safety expert will not be in favour of this. You can allow your contacts to view your profile photo or simply choose Nobody.
3. About
This feature enables you to provide information about yourself using 139 characters. It can be any message you want to give or any information you wish to share. Again, you have three options to choose from: Everyone, My contacts, and Nobody.
4. Status
WhatsApp allows you to put up pictures, videos, or simple text messages that remain available for 24 hours. You have three options to decide who can see your status:
My contacts: All your contacts can see your status.
My contacts except…: Your status is visible to all your contacts, except those you select.
Only share with…: Instead of sharing your status with all the contacts at large, your status is only visible to the contacts you select.
5. Groups
Do you know you can prevent other users from adding you to groups? Using this feature, you can allow everyone or only your contacts to add you to various groups. Further, you can select contacts that cannot add you to a WhatsApp group.
6. Live Location
WhatsApp allows users to share their live location. Be extremely careful while sharing your live location. If it is necessary to share, share your live location only for the required time and verify that you are sending your location to a genuine person. Never share your live location with a stranger just because they asked for it.
7. Blocked contacts
You can block any other user at any time. You can either go to that person's profile and block them from there. Alternatively, you can open the Blocked contacts option and add a user to your blocked list.
8. Fingerprint lock
This is an in-built feature in WhatsApp which requires fingerprint authentication every time you open the application. However, you can also set the duration for an automatic lock.
9. Two-step verification
This feature allows you to add a security PIN to your account. WhatsApp will ask this PIN at different times to ensure that only you are using your account. Further, if you change your mobile device and access your account, WhatsApp will ask for this PIN after the one-time password (OTP) is verified. So, if you somehow end up sharing your OTP, do not share your pin in any case whatsoever.
Endnotes: General security measures on WhatsApp
Apart from the security measures I discussed above, there are a few more things that you should take care of.
Avoid replying to people you do not know. Always do a background check and do not outrightly believe a user's identity.
Regularly check your contact list. At times, we end up saving numbers that we only needed once or twice. For example, a cab driver who cancelled your ride.
Keep a tab on WhatsApp Web access for your account. Do not give your phone to anyone without your supervision, as they can scan the WhatsApp Web QR in a matter of few seconds and get access to your chats.
WhatsApp is a breeding ground for fake news and misinformation. Never believe the forwarded messages. Avoid blindly forwarding messages you receive on WhatsApp.
---
Featured Image Credits: Technology psd created by syifa5610 – www.freepik.com