How to download Aadhaar card in DigiLocker app?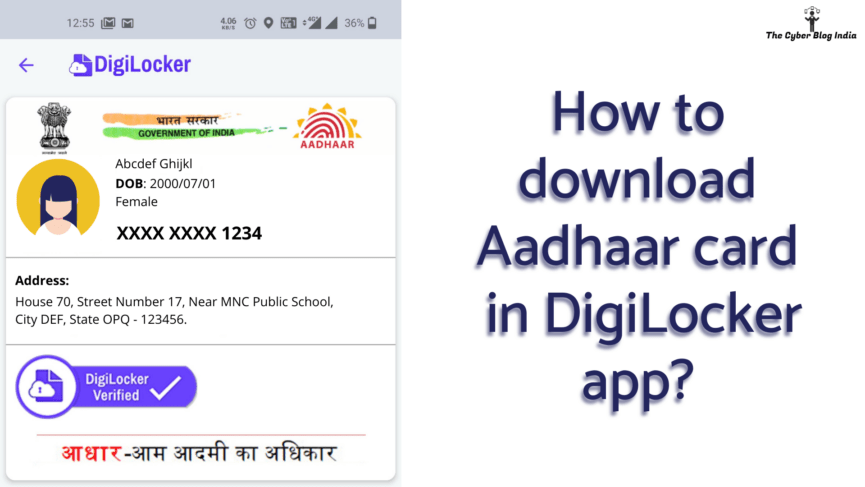 As we move towards the end of this decade's first year, e-Governance has become a necessity for governments across the globe to provide their services to citizens. With the launch of Digital India initiative on July 01, 2015, we have seen many useful platforms to cater to our day-to-day requirements. One such platform is DigiLocker which seeks to digitally empower citizens by issuing them digital documents.
As per Rule 9 of the Information Technology (Preservation and Retention of Information by Intermediaries Providing Digital Locker Facilities) Rules, 2016, documents issued to a user's DigiLocker account are at par with the original physical documents. For example, you can show your Aadhaar card in the DigiLocker app while entering an airport. Another example can be showing your DL & RC to traffic police. While doing initial research for this article, I found out that a substantial proportion of citizens have no idea about what this app is and how it can be useful. This is the first article in my series covering important applications of DigiLocker. In this article, I will discuss the step-by-step procedure to download Aadhaar card in DigiLocker app.
Step 1
The first step is to download and install the DigiLocker app on your phone. Open Play Store/App Store and search for "DigiLocker." After opening the app, it will ask you to create an account. To create your account, enter your Aadhaar number and complete the verification process. The verification process will also ask you to set up a security PIN.
Please note that you cannot create a DigiLocker account without an Aadhaar number.
If you already have an account, tap on the Accounts option in the bottom-right corner.
Step 2
You may not need to do this step if you have created an account right now. Otherwise, enter your mobile/Aadhaar/username to login. In any case, it will ask you to enter OTP and security PIN for signing in.
Step 3
Even though DigiLocker account is Aadhaar linked, you will not see your Aadhaar card by default. On the application's homepage, look out for a list of Central Government issuers.
There, you will see a tile named "Unique Identification Authority of India" with Aadhaar logo. Tap on this tile, and you should see the documents issued by UIDAI.
Click on the Aadhaar card link, and the app asks your consent to share your data with the issuer.
To link and download your Aadhaar card, enter the OTP sent on your registered mobile number and tap on the Continue button.
Is there any other way to get your Aadhaar card?
Yes, there is. But it is more or less similar to the above steps. Tap on the Issued Document option in the centre-bottom of your screen. The resulting page contains a hyperlink: Get your Digital Aadhaar.
Click on this link, and the app asks you to enter your Aadhaar number and consent. Enter OTP to complete the verification process, and that's it.
Step 4
Your Aadhaar card should now appear in the "Issued Document" tab. Click on the three dots corresponding to a document, and the following options are available:
View
Share
Download PDF
Refresh
Details
Have you been able to download Aadhaar card in DigiLocker app? Let us know in the comments.
---
Interested in contributing to our blog and knowledge base? Write to us at contact@cyberblogindia.in and elaborate on how you can help us in creating a safer cyber space.