Harman v. State of Haryana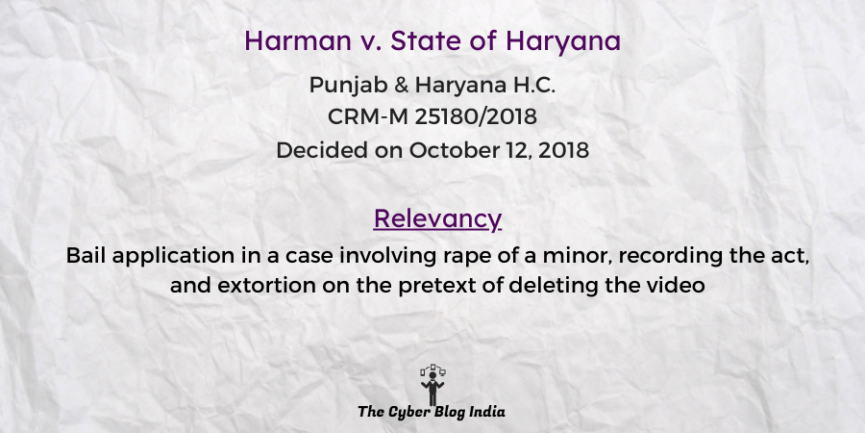 Harman v. State of Haryana
In the High Court of Punjab & Haryana
CRM-M 25180/2018
Before Justice H.S. Madaan
Decided on October 12, 2018
Relevancy of the Case: Bail application in a case involving rape of a minor, recording the act, and extortion on the pretext of deleting the video
Statutes and Provisions Involved
The Information Technology Act, 2000 (Section 67A)
The Protection of Children from Sexual Offences Act, 2012 (Section 4)
The Criminal Procedure Code, 1973 (Section 164)
The Indian Penal Code, 1860 (Section 120B, 228A, 365, 384, 506)
Relevant Facts of the Case
The prosecutrix and the accused are classmates. He raped her in a semi-conscious state and recorded the act through his mobile phone.
Subsequently, the accused persons threatened the prosecutrix to make the obscene video viral and kill her family members to prevent her from disclosing the incident.
One day, both of them forced the prosecutrix to accompany them to the hotel. Again, the accused raped the prosecutrix and recorded the video.
The accused again called the prosecutrix; however, she denied going with him. After that, he forwarded the video to Parkash, Mandeep and Harman (petitioner in the present case).
The petitioner called the prosecutrix and demanded the money on the pretext of deleting the obscene video. Consequently, he extorted sixty thousand rupees from her.
The prosecutrix finally told her parents about the incident. After that, the accused, Mandeep and Parkash uploaded the video on the internet.
The police registered the first information report and arrested the accused, the petitioner, Mandeep and Parkash. Also, the police recovered the Apple phone and car used in the crime from the accused, mobile phones from Mandeep and Parkash and five thousand rupees from the petitioner.
The petitioner seeks bail through this petition. Earlier, the Sessions Court had rejected the petitioner's bail application in the first instance.
Prominent Arguments by the Advocates
The Additional Advocate General opposed the bail application. He thereafter expressed the apprehension that the petitioner can abscond and try to tamper with the prosecution evidence.
Opinion of the Bench
The charges against the petitioner are grave. Moreover, the court did not find merit in the present petition.
Final Decision
Accordingly, the court rejected the bail petition.