Hari Krishna Bhatt v. State of Uttarakhand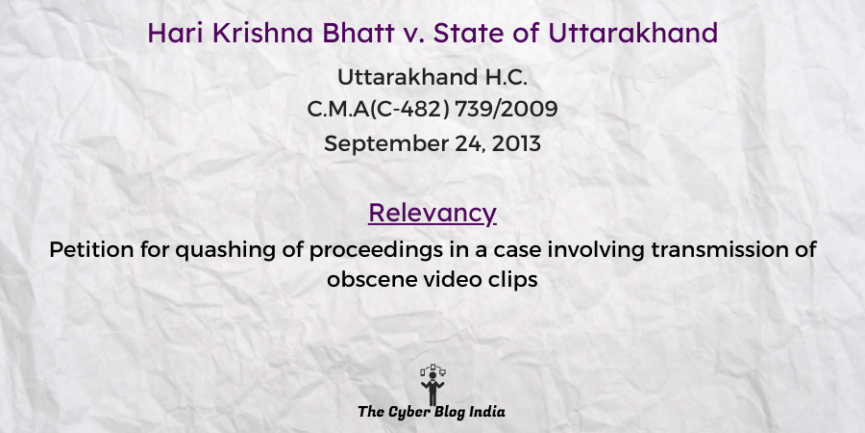 Hari Krishna Bhatt v. State of Uttarakhand
In the High Court of Uttarakhand
C.M.A(C-482) 739/2009
Before Justice U C Dhyani
Decided on September 24, 2013
Relevancy of the case: Petition for quashing of proceedings in a case involving transmission of obscene video clips
Statutes and Provisions Involved
The Information Technology Act, 2000 (Section 67)
The Indian Penal Code, 1860 (Section 292, 294)
The Code of Criminal Procedure, 1973 (Section 482)
Relevant Facts of the Case
The petitioner allegedly made obscene clips of his relationship with a woman and shared it with many people.
On inquiry, the petitioner stated that he prepared the CDs with his wife but did not share it with anyone else.
He stated that someone stole the CD containing the obscene video clips from his computer and circulated it to others.
Opinion of the Bench
Even if it is presumed that the accused prepared the CDs, the same was never published, transmitted or made to be published or transmitted. Thus, Section 67 of the IT Act, 2000 or Section 294 of the Indian Penal Code, 1860 is not applicable.
As no factual foundation is provided for the alleged offences, the proceedings should be quashed.
Final Decision
Petition allowed.
Charge sheet and proceedings quashed.
---
This case summary has been prepared by Loreal Sahay, an undergraduate student at the University School of Law and Legal Studies, GGSIPU, during her internship with The Cyber Blog India in January/February 2021.