Getting Revenge Porn Videos Removed from Twitter [Case Study]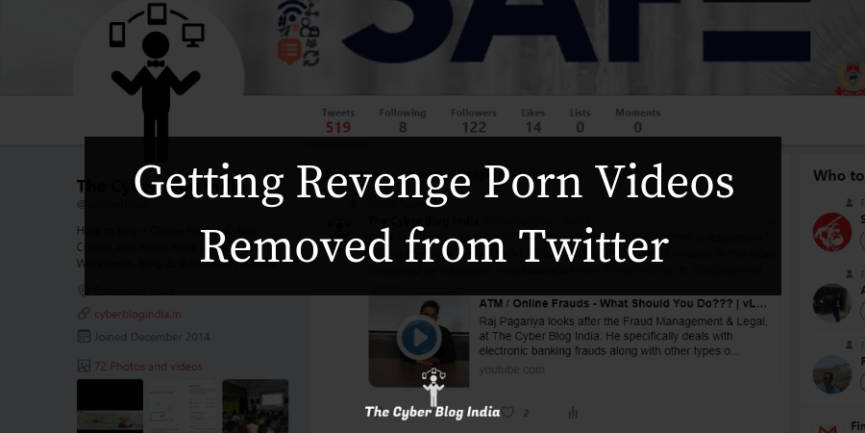 How many times has a text from your ex-boyfriend/girlfriend made you afraid? If the number is high, the probability that message being threatening or derogatory is equally high. A person being threatened of his/her integrity via illicit images and videos always thinks what went wrong and what can be done now. These pictures and videos are generally taken when you are in a relationship and you trust your partner completely. At the outset, I would want to tell you there is nothing wrong with it. The offender starts the unending approach of sending sinister and ugly demands. These demands can be ransom or the blackmailer may even ask for sexual favours. In most of the cases, the demands are sexual in nature. This entire chain of events is usually referred to as revenge porn aka sextortion. What needs attention in these sensitive cases is how the victim responds to the threats. An ideal response to these threats is to report it to the Law Enforcement Agencies or at least to your parents if you are a minor.
There is no denying that the cases related to revenge porn are increasing in India. But most of these cases never see the light of the day. The stigma and the shrewd perspective of the society have always stopped victims from approaching police or the parents in the majority of cases. So,
Is being ignorant to revenge porn the only option in India?
The answer is no. I have personally spoken to many of these victims and it is true that they do not want this to reach their parents. The only thing that they want is to remove any such content published on the Internet. Removing something completely from the Internet may actually not possible. But when the victims know about their videos or photos being uploaded to pornographic websites or social media, they can be definitely removed from the concerned platforms.
The Incident
Recently, we received a case on our WhatsApp Helpline where a video of a girl with her ex-boyfriend was uploaded on Twitter. The video which was doing rounds on the platform for the last 8 months. This video received favourites, retweets, and comments but it was never taken down by the social media giant. The Twitter Account where the video was uploaded was filled with explicit sexual content.
The victim informed us about the same and she was feeling helpless in the whole situation. We calmed her down and informed her that she should inform to the Police about it and should take legal action against her ex-boyfriend who had uploaded it under Section 67 & 67 A of the Information Technology Act, 2000. She refused to do so due to the fact that she did not want her parents to know about the entire incident. Since she was already in a serious dilemma, we assured that we will try out best to ensure that the video is taken down. Then, we followed the steps given below. I am penning down these steps one-by-one so that our readers can understand the entire procedure easily.
Getting Revenge Porn Videos Removed from Twitter
Go to https://help.twitter.com/en

Chose Safety and Security from the left menu.
Click on Sensitive Content.

On the new page, click on Report private information posted on Twitter

Scroll down to the paragraph that has the heading How do I report that my private information is posted on Twitter? Click on the link that says report that someone has posted your private information.

A new page with a form will open.

Carefully fill out the form. You can contact us if you need help in filling the form.
Submit the request.
You will get an email from Twitter within 48 Hours.

You need to upload your photo with a Government issued ID on the link given in the email. This step is taken to ensure that the identity is the same that is being represented in the video or the image.
After completing the whole process, you will receive another mail within 48 Hours which will be the resolution taken by Twitter on the matter.

In the above-mentioned case where the victim wanted the video to be removed, we received a mail where Twitter suspended the whole account where the video was posted after submitting the request. When I informed the victim about the same, this is how she responded:
My name is ***** and I never thought in my life I would go to such a horror, so ex cheated on me and took a video and made it viral after few months. I got to know that it was put everywhere possible on Pornhub, XNXX website, Instagram, Telegram, Twitter and what not. I got to know this through my friends and then later I was so shocked I didn't know what to do I did everything possible from my end to take them out but it didn't work then.

I searched on Google if I could find help because my friends told me just see if I could get any cybercrime people who can help me with this , then I found this number and I messaged and told them everything within few days everything was taken out .. thanks to The Cyber Blog India team. Without their help, I wouldn't have been able to do anything. Now I'm strong enough to face my trouble this is true, if I hadn't been strong, I would've ended up ending my life but they kept me going and that guy will learn a lesson , if anyone has gone through my situation please be strong don't take foolish decisions by ending lives think twice. You can take help of The Cyber Blog India and they will surely help you. This is my story and it did end well.
This is just one of the cases we receive on a regular basis in which we have helped a victim who was willing to ask for the help and was courageous enough to take the necessary steps.