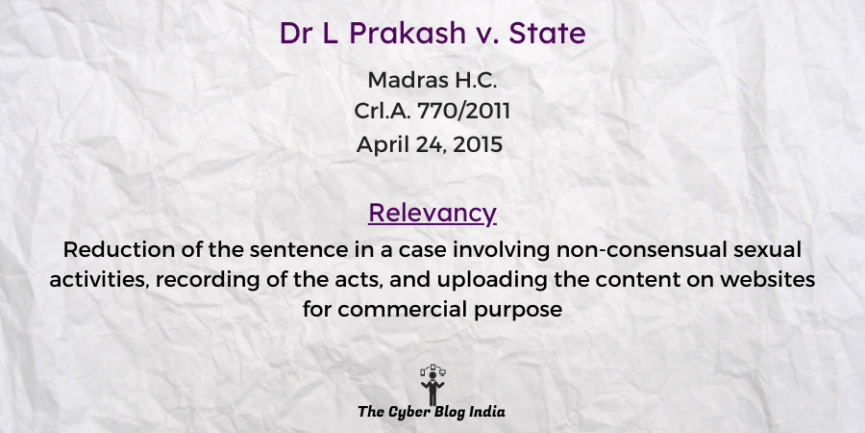 L Prakash v. State
In the High Court of Madras
Crl.A. 770/2011
Before Justice S Tamilvanan and Justice C T Selvam
Decided on April 24, 2015 
Relevancy of the case: Reduction of the sentence in a case involving non-consensual sexual activities, recording of the acts, and uploading the content on websites for commercial purpose
Statutes and Provisions Involved
The Information Technology Act, 2000 (Section 67)

 

The Immoral Traffic (Prevention) Act, 1956 (Section 5, 6)

The Indecent Representation of Women (Prohibition) Act, 1986 (Section 4, 6)

The Indian Penal Code, 1860 (Section 367, 506)

The Arms Act, 1959 (Section 27)

The Code of Criminal Procedure, 1973 (Section 313, 374(2))

The Constitution of India, 1950 (Article 21)
Relevant Facts of the Case
The appellant, an Orthopaedic surgeon, along with other co-accused procured young girls/ladies to his farmhouse or guest house. 

They forced the procured young girls/ladies, without their consent, into sexual activities with the complainant.

The appellant and other co-accused videographed and photographed these activities and sent them to the appellant's younger brother who used to upload the content on various websites for commercial purposes. 

The appellant also used his licensed gun to threaten the young girls/ladies who refused to participate in such sexual activities. 

The present criminal appeal was filed to reduce his sentence as he had already served 13 years and 3 months of imprisonment. 
Opinion of the Bench
The court was of the view that there lies no doubt that the appellant had committed a crime against society, especially women. However, it should be taken into consideration that the appellant has already served 13 years and 3 months of imprisonment. 
Final Decision
---
This case summary has been prepared by Anushka Ojha, an undergraduate student at Bharati Vidyapeeth New Law College, Pune, during her internship with The Cyber Blog India in May/June 2021.