Cyber Squatting: What are we missing?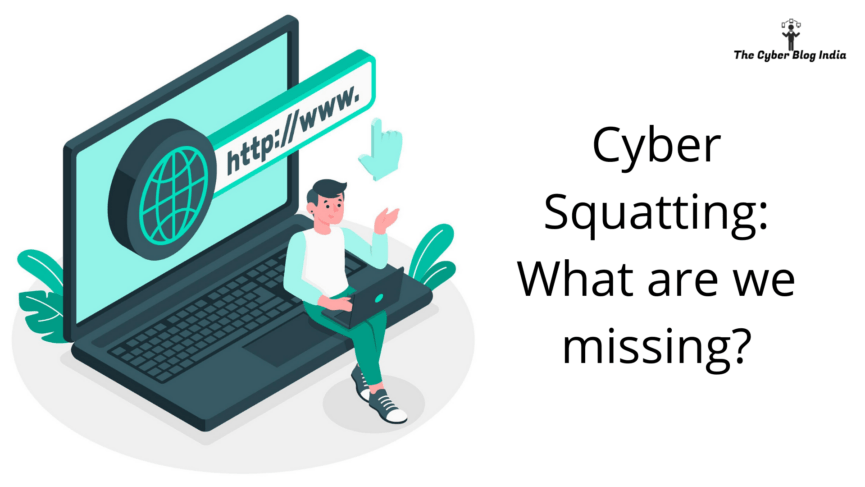 Yahooindia.com, Googl.com, Amazn.com, Flipcart.com, and so on. All these websites look familiar, but does something seem off? This is precisely what cyber squatting is. We usually notice peddlers in road-side markets for selling rip-offs or first copies of well-known merchandise brands with slightly misspelt names. When such activity happens in the digital space for domain names, it is called cyber squatting.
While websites with deceptively similar domain names have been around for long, growth has been witnessed during the ongoing COVID-19 pandemic. Under the Intellectual Property Rights (IPR) regime, names related to a particular brand may come under the scope of trademark law. However, this stand used to be applicable only for physical products. Over the years, IPR regimes across the globe have recognized domain names as trademarks. While the same is yet to be done by the Indian Parliament, the courts have often considered that domain name may be considered under the scope of trademark law. In the absence of specific legislation, there remains a considerable lacuna in the Indian legal system while dealing with cyber squatting.
Legal position across the globe
In the United States, the Anticybersquatting Consumer Protection Act of 1999 is a dedicated legislation to deal with the cases of cyber squatting. This law allows an aggrieved party to approach the court and seek available remedies for trademark infringement. Remedies include injunction and any monetary compensation, if viable. This act does not specify any upper limit on the compensation; however, it appears that the amount will depend on the facts of a case.
In Nigeria, Section 25 of the Cybercrime (Prohibition, Prevention, Etc) Act, 2015 considers cyber squatting as a criminal offence. This provision prescribes imprisonment up to 2 years or fine up to ₦5 million or both. Nigeria also has an organization called the Nigeria Internet Registration Association (NiRA) that is responsible for the registration of country-code top-level domains (ccTLDs).
While there is no EU-level legislation on cyber squatting, European countries such as Belgium, Finland, France, and Denmark have enacted laws dealing with cyber squatting. The Belgian Parliament adopted the Anticybersquatting Act of 2003 to address the issue of unlawful registration of domain names. This act covers all ".be" domains and other domains where the registrant is Belgian. Before the court of the first instance, a plaintiff must show that the registrant's domain name is identical or confusingly similar to the distinctive sign in which he has rights, and the said domain has been registered without right or legitimate interest and with a purpose to harm the plaintiff or take unfair advantage. The court can either order cancellation or transfer of the domain, but it is barred from awarding damages. To seek damages, the aggrieved party must initiate legal proceedings separately based on the merits of the case.
On a global level, the World Intellectual Property Organization (WIPO) and the Internet Corporation for Assigned Names and Numbers (ICANN) have often worked in tandem to provide streamlined mechanisms to arbitrate disputes related to domain names. In many cases, Indian parties have approached the WIPO Arbitration and Mediation Centre. One such instance is SBI Cards and Payment Services Private Limited v. Domain Active Pty. Ltd. The Administrative Panel of WIPO Arbitration and Mediation Centre proceeded as per the Unified Domain Name Dispute Resolution Policy (UDRP) and ordered that the disputed domain (sbicards.com) should be transferred to the complainant. As per UDRP, a domain name registration is considered illegitimate if:
The disputed domain name is identical or confusingly similar to a trademark or service mark in which the complainant has rights; and
The respondent has no rights or legitimate interests in respect of the domain name; and
The disputed domain name has been registered and used in bad faith.
Cyber squatting and Indian law
As we discussed earlier, there is no specific legislation or policy in India that deals with cyber squatting. However, the courts have come to the rescue of the aggrieved parties by acknowledging that domain names fall under the scope of trademark law. For example, in the case of Satyam Infoway Ltd v. Siffynet Solutions Pvt Ltd (Appeal (C) 3028/2004), the honourable Supreme Court observed that domain names may be considered under the definition of services given in Section 2(z) of the Trade Marks Act, 1999. In this case, the court extensively discussed how the appellants have the remedy of passing off available in the present case. Other prominent case laws on cyber squatting/domain name disputes in India include:
Yahoo, Inc. v. Aakash Arora & Anr (78 (1999) DLT 285),
Rediff Communication Limited v. Cyberbooth & Anr (1999 (4) BomCr 278)),
Tata Sons Ltd. v. Mr Manu Kishori & Ors (90 (2001) DLT 659),
Aqua Minerals Limited v. Mr Pramod Barse & Anr. (AIR 2001 Delhi 467),
Nestle India Limited v. Mood Hospitality Pvt. Ltd. (2010 (42) PTC 514 (Del)), etc.
Suggestions & Conclusions
Various laws can be amended to introduce cyber squatting as an offence. These laws include the Information Technology Act, 2000, the Trade Marks Act, 1999, and the Indian Penal Code, 1860. Alternatively, it can be added as a criminal offence under either the Information Technology Act, 2000 or the Indian Penal Code, 1860 and as a civil offence under the Trade Marks Act, 1999. Besides, India can draw inspirations from Nigeria to establish a regulatory authority, similar to what has been envisioned in Chapter VI of the Information Technology Act, 2000. This regulatory authority may be granted powers to adjudicate disputes related to domain names.
Regulatory norms and policies need to keep evolving with technological advancements. All the traditional industries, along with upcoming sectors, are becoming increasingly reliant on IT-based services. While the Indian laws on issues pertaining to cyber space are still in their nascent stage, it is easier to bring in significant changes at this point so that we can quickly sync with the advancements presented before us.
---
This article has been jointly written by Prakarsh and Shruti Mishra. They are undergraduate students at NLIU, Bhopal.
Disclaimer: Views or opinions expressed in this article, whether impliedly or explicitly, are personal.
---
Check what our friends from The IP Press have to say about trademarkability of '.com' marks with generic terms here.
Edited by Raj Pagariya
Featured Image Credits: Web vector created by stories – www.freepik.com