Ajay Bansal v. State of Haryana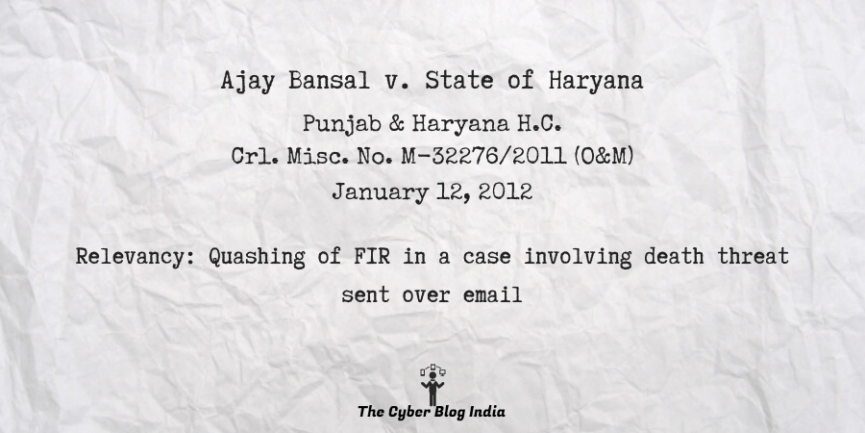 Ajay Bansal v. State of Haryana
In the Punjab & Haryana High Court
Crl. Misc. No. M-32276/2011 (O&M)
Before Justice Naresh Kumar Sanghi
Decided on January 12, 2012
Relevancy of the case: Quashing of FIR in a case involving death threat sent over email
Statutes & Provisions Involved
The Information Technology Act, 2000 (Section 66A, 66D)
The Indian Penal Code, 1860 (Section 419, 468, 469, 471, 506)
The Code of Criminal Procedure, 1973 (Section 173, 482)
Relevant Facts of the Case
A memo dated 29.01.2010 was sent to the police by the learned Sessions Judge, Hisar, to the effect that an e-mail dated 24.01.2010 was sent to the Hon'ble Chief Justice of Punjab & Haryana High Court. Stating that on 01.02.2010 between 8 A.M -11.59 P.M, Hon'ble Justice R.C. Gupta will be assassinated. This email was sent using the identity of a random person named Pankaj Sudhir.
Based on these details, an FIR was filed under Section 506, 419, 468, 469, and 471 of the Information Technology Act, 2000 read with Section 66A and 66D of the Information Technology Act, 2000. The evidence and the computer used to send the email was recovered from the possession of the accused.
The trial court in its order dated 13.05.2010 and the Sessions Court in its order dated 13.07.2011 ordered that the charges under the mentioned provisions be framed.
This petition is filed under Section 482 CrPC for quashing the FIR filed against the petitioner-accused.
Prominent Arguments by the Advocates
The learned counsel for the petitioner submitted that the material appended with the report under Section 173 Cr.P.C is not sufficient for framing charges against the petitioner and, therefore, the orders dated 13.05.2010 and 13.07.2011 are liable to be quashed by the court.
Opinion of the Bench
The court at the stage of framing of charge exercises its limited jurisdiction. At this stage, it would not weigh the evidence. It would only see whether a prima facie case is made out or case of probable conviction for commission of an offence is made out with the evidence collected during the investigation.
The court would not go deep into the matter for the purpose of appreciation of evidence. The charges can be framed if the court forms an opinion that the commission of an offence by the accused was possible but whether, in fact, the accused committed the offence, can only be decided at trial.
Final Decision
Commenting on the merits of the case may be prejudicial to the case of either party. It suffices to say that there is no illegality, infirmity, or perversity in the order dated 13.05.2010 passed by the learned Judicial Magistrate First Class, Hisar and the order dated 13.07.2011 by the learned Additional Sessions Judge, Hisar, and as such, the petition is dismissed.