Abraham Memorial Education Trust v. C. Suresh Babu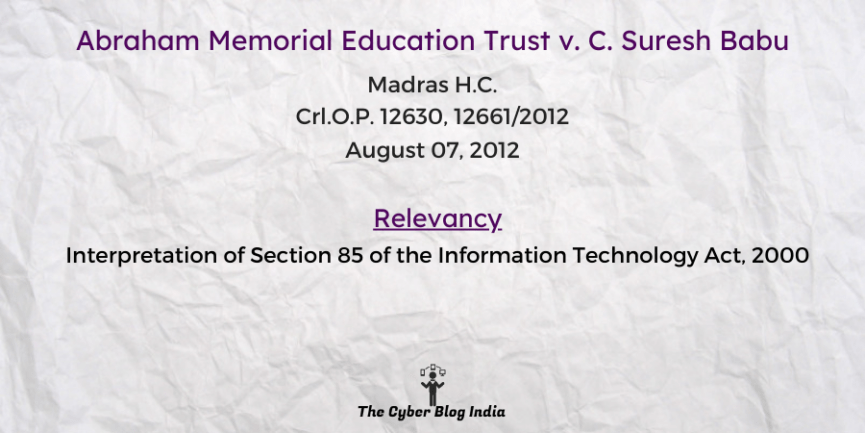 Abraham Memorial Education Trust v. C. Suresh Babu
(2012) 5 CTC 203 : (2012) 175 Comp Cas 361 : (2012) 2 LW (Cri) 196
In the High Court of Madras
Crl.O.P. 12630, 12661/2012
Before Justice S. Nagamuthu
Decided on August 07, 2012
Relevancy of the Case: Interpretation of Section 85 of the Information Technology Act, 2000
Statutes and Provisions Involved
The Information Technology Act, 2000 (Section 85)
The Constitution of India (Article 300A)
The Negotiable Instruments Act, 1881 (Section 7, 26, 138, 141)
The General Clauses Act, 1897 (Section 3(42))
The Indian Trusts Act, 1882 (Section 3)
The Indian Penal Code, 1860 (Section 11)
Relevant Facts of the Case
Abraham Memorial Educational Trust runs Ebenezer International School.
The managing director of the trust borrowed Rs. 7 crores from the respondent for developing the school.
The trust issued twenty post-dated cheques. The cheques got dishonoured due to insufficient funds in the account.
After serving the legal notice, the respondent filed a complaint against the trust and its trustees under Section 138 of the Negotiable Instruments Act, 1881.
The present petition seeks to quash the complaint.
Opinion of the Bench
A trust with one or more trustees is a "company" under Section 138 and 141 of the Negotiable Instruments Act, 1881.
The same interpretation applies to Section 85 of the Information Technology Act, 2000.
Trustees were in charge of the day-to-day affairs of the trust. They had assured the payment to the respondent. Therefore, it is not reasonable to quash the complaint.
Final Decision
The court dismissed the petition and closed miscellaneous petitions.