A Beginner's Guide to Cyber Squatting in India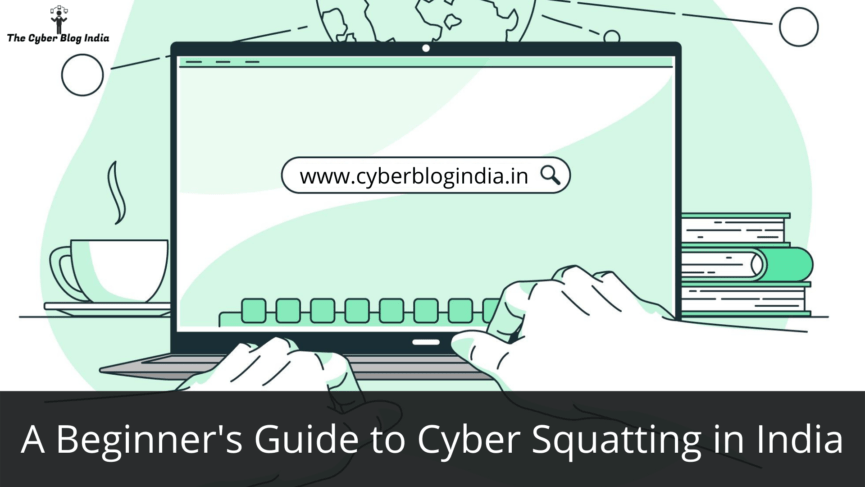 A domain name is the website address that allows visitors to find a person, company, or organisation on the internet. One may observe that every other company has a domain name, which sometimes becomes brands in and of themselves over time. Almost every business nowadays has a domain name registered and is actively pushing it to its clients. As domain names grow more popular, securing them against misuse and financial damage to the business becomes increasingly important. Cyber squatting is a problem that both small and large enterprises encounter when it comes to domain names.
What is cyber squatting?
Cyber squatting happens when an individual registers a domain name that is identical to, or confusingly similar to, another person's existing domain. In many cases, it is often the trademark. Then, this individual offers to sell the domain name back to the trademark owner.
A cyber squatter, for example, may acquire cyberblogindia.com if we have not yet built a website, intending to sell the domain to us for a profit at a later date, or use the domain name to draw traffic and earn revenue through advertising.
Are typo squatting and gripe sites different?
Typo squatting
For most internet users, making a typographical error is a regular occurrence, with some such errors being quite prevalent. Typo squatters will purchase domains that include a typographical mistake. For example, one can purchase linkdin.com instead of linkedin.com and use this new domain to set up a phishing site. The purpose is usually malicious, to skim users who make a mistake.
For example, Sergey Gridasov from Russia had operated domain names googkle.com, ghoogle.com, and gooigle.com. He developed these websites to infect computers with malware.  In 2005, Google regained control of the domains.
Gripe sites
A gripe site is where individuals, places, governments, companies, or organisations may be criticised or mocked. Gripe sites are also useful for charitable purposes. Moreover, they are not necessarily unlawful.
For example, Pastor Jerry Falwell sought to shut down fallwell.com because it was being used to refute his homophobic allegations. He was unsuccessful as the courts determined that fallwell.com had no commercial element, that is, no bad faith or intent to profit, and so the owner was not infringing on any trademarks.
Another instance involving a gripe site is careeragentsnetwork.biz, which was set up by a discontented and resentful client of careeragentsnetwork.com ("CAN"). Moreover, the client heavily invested in search engine optimisation that led to it coming in the top search results. The client alleged that CAN did nothing with its own web presence at careeragentsnetwork.com when they purchased the domain. The court concluded that as complainants did not attempt to boost their own business, therefore, the respondent could not be held liable.
What does the law say about cyber squatting?
Indian courts
Litigation in a court of law is one of the options available against cyber squatters. In India, courts have granted several injunctions preventing cyber squatters from exploiting domain names.
For Example, in the case of Info Edge (India) Pvt. Ltd. & Anr v. Shailesh Gupta & Anr (98 (2002) DLT 499), the Bombay High Court granted an injunction prohibiting the defendant from using the domain name "RADIFF" or any other similar name. The court held that there is a strong possibility the new domain will create confusion. Moreover, the domain in question can deceive users into believing that both domain names belong to the same source and connection.
In the case of Naukri.com, the domain naukari.com was found to be confusingly similar to the plaintiff's domain naukri.com with a different spelling variant, generating a prima facie inference of ill faith.
.In Domain Resolution Policy (INDRP)
The National Internet Exchange of India, or NIXI, is in charge of the .in top-level domain. Therefore, the INDRP Rules of Procedure and the .in Dispute Resolution Policy are available for handling .in domain disputes. According to the INDRP, anybody who believes that a registered domain name infringes on their legitimate rights or interests may submit a complaint to .IN Registry on three grounds. They are:
the registrant's domain name is identical or confusingly similar to a name, trademark, or service mark in which the Complainant has rights;
They have no rights or legitimate interests in the domain name; and
Their domain name was registered or is being used in bad faith.
Uniform Domain Name Dispute Resolution Policy (UDRP)
The Internet Corporation for Assigned Names and Numbers (ICANN) has developed a Uniform Domain Name Dispute Resolution Policy (UDRP) for dealing with cyber squatting. UDRP is a part of the domain registration agreement. It establishes the terms and circumstances in the event of a dispute. It considers registration and use of a domain between the individual who registered, the registrant and any party other than the registrar. While registering a domain name, the registrant agrees to submit to procedures initiated under UDRP.
Endnotes
Cyber squatting is not a new issue that has suddenly come up. With the increasing internet presence of businesses, it becomes critical to maintain the brand identity and trademark. As domains are globally accessible, it appears that the extent of trademark infringement has expanded. While it is financially futile for small businesses to buy each possible domain, it is worthwhile to purchase location-specific domains. For example, if you are from India, you can consider buying .in, .co.in, along with the traditional .com domain.
---
Featured Image Credits: Website vector created by stories – www.freepik.com