Virtual Private Network (VPN): Legal or Illegal?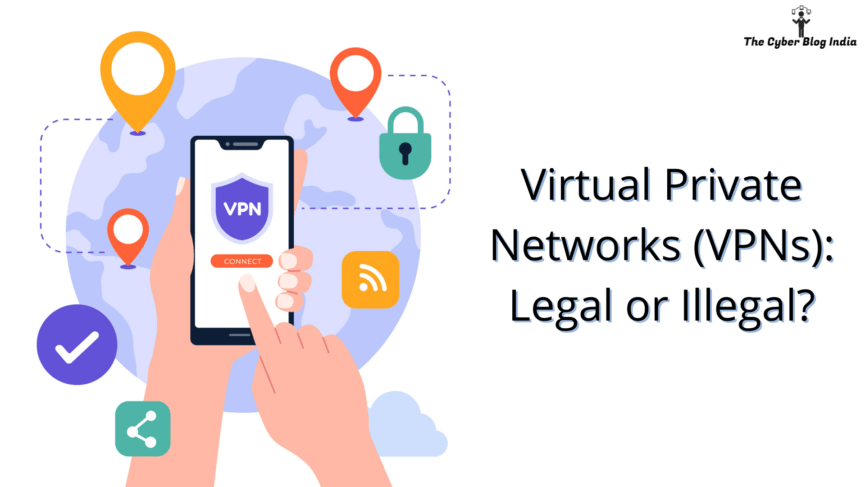 Myanmar's military junta has sought to introduce a law prohibiting the use of VPNs in a move to widen its internet censorship. The proposed law stipulates imprisonment of one to three years and fines of up to 5 million Myanmar Kyats (~$2,800). Moreover, the law places an obligation on service providers to provide personal information to authorities when requested.
What is a VPN?
Have you ever connected to a random Wi-Fi hotspot with a name like Boston-MA-St80? It may seem like a legit Wi-Fi network, but there is a good chance that criminals have set it up to gain access to your personal information. In such situations, a VPN can help you have a secure connection. The role of VPN becomes really crucial when you are connecting to a fake Wi-Fi access point or an unsecured public network. A Virtual Private Network (VPN) helps users securely browse the internet. It creates an encrypted tunnel for our data to flow securely. It also hides your original IP address and hides your identity and location. To read more on VPN, click here.
Is using VPN legal or illegal?
Using VPN is legal in most countries. However, some countries have restricted or criminalised the use of VPNs. As for India, using VPN should not land you in any legal trouble. Let's look at countries that have either restricted or criminalised the use of VPNs.
1. China
China heavily regulates the use of VPNs to prevent its citizens from bypassing the online censorship system, also known as the Great Firewall of China. The Chinese government has not criminalised using VPNs due to their use in international businesses. However, the existing laws require VPN providers to obtain a license from the government to operate in the country. As a result, only authorised VPN service providers can provide their services.
In November 2021, the Cyberspace Administration of China (CAC) released the draft Network Data Security Management Regulations. The Draft Regulations cover various topics, including restrictions on VPNs. CAC seeks to impose strict penalties on individuals and organisations that circumvent the Great Firewall. The offender would be subject to fines up to 10 times the illegal profits of a company or up to RMB 500,000 ($78,300). In serious cases, the Draft Regulations also provide for suspension or termination of business operations or licenses.
2. North Korea
Most North Korean citizens do not have access to the internet. Instead, they connect to North Korea's intranet – Kwangmyong, a Korean word for a bright star. The country has illegalised the use of VPNs or any other tool that helps in circumventing internet censorship. Such use is outlawed to prevent the citizens from accessing the censored content.
3. Oman
Oman has illegalised the use of VPNs since 2010. For public and private institutions to use VPNs, they must gain prior approval from Oman's Telecom Regulatory Authority. A fine of 500 Omani Rial ($1,300) on individuals or 1,000 Omani Rial ($2,600) on companies is imposed if they are found in breach of the law. Amid the ongoing COVID-19 outbreak, Oman decided to uplift restrictions on tools such as Skype for Business, Google Meet, and Zoom.
4. Turkey
It is legal to use VPNs in Turkey as no statute prohibits the same. However, the Turkish government has restricted VPNs through Law No. 5651. Through a new paragraph added to Article 6, the law requires access providers to "take measures to prevent alternative access route in relation to the publications that were decided to block access." The legislation imposes an administration fine from 10,000 ($734) to 50,000 ($3,670) Turkish Liras on the access providers who fail to comply with this obligation. Previously in 2016, the Information Technologies and Communications Authority had sent a notice to access providers to restrict various VPN services.
5. United Arab Emirates
UAE has not explicitly banned using VPNs unless used to commit crimes. The Federal Law No. 5 of 2012 provides punishment for temporary imprisonment and a fine of not less than AED 500,000 ($136,128) with a maximum of AED 2,000,000 ($544,512). However, it is difficult for individuals to prove that they used VPN for the right reasons.
6. Iraq
In 2014, Iraq widened its internet censorship to include a ban on VPNs due to then-ongoing national security concerns.
7. Russia
Russia has restricted the use of proxy avoidance tools like VPNs and anonymisers since 2017. The country has a federal law prohibiting web tools that allow Russians to access outlawed websites. In 2021, the Russian internet watchdog, Roskomnadzor banned six more VPN service providers, bringing the total to over a dozen. The reasons cited include illegal activities, distribution of drugs, child pornography, extremism, and suicide.
Conclusion
Over time, VPNs have evolved to become an essential tool to stay private and safe online. Governments and businesses are increasingly adopting VPN services for the secure transmission of sensitive information. It is legal to use VPNs in most countries. However, if you reside in a country with restrictions or a blanket ban, you may find it difficult to access censored content. Such restrictions prevent individuals from exercising their freedom to access the internet. The degree of restrictions increases with the nature of a country's regime. Countries impose a high level of censorship to control the narrative and hinder access to the rest of the world, thereby completely regulating the internet for their citizens.
---
Featured Image Credits: Hand drawn vector created by freepik – www.freepik.com