Vaisakh v. State of Kerala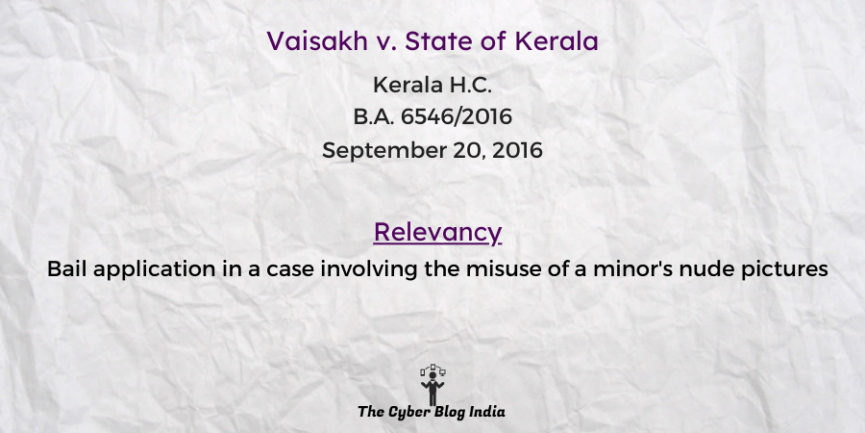 Vaisakh v. State of Kerala
In the High Court of Kerala
B.A. 6546/2016
Before Justice P Ubaid
Decided on September 20, 2016
Relevancy of the case: Bail application in a case involving the misuse of a minor's nude pictures
Statutes and Provisions Involved
The Information Technology Act, 2000 (Section 67A, 67B)
The Protection of Children from Sexual Offences Act, 2012 (Section 7, 8, 15)
The Code of Criminal Procedure, 1973 (Section 239)
Relevant Facts of the Case
The petitioner and the victim developed intimacy online when she was a minor. The petitioner procured the victim's nude photographs.
The police have seized the mobile phone containing nudes and have sent it for examination.
Prominent Arguments by the Advocates
The petitioner's counsel submitted that the accused misused the nudes for blackmailing so that he could initiate physical intimacy.
Opinion of the Bench
The court opined that the petitioner's continued detention in custody is not necessary as the police have already seized the petitioner's mobile.
Till the report comes, the petitioner cannot be indefinitely kept in custody.
Final Decision
Application allowed.
Bail granted with conditions.
---
This case summary has been prepared by Anushka Ojha, an undergraduate student at Bharati Vidyapeeth New Law College, Pune, during her internship with The Cyber Blog India in May/June 2021.