First Amendment Rights and Social Media Platforms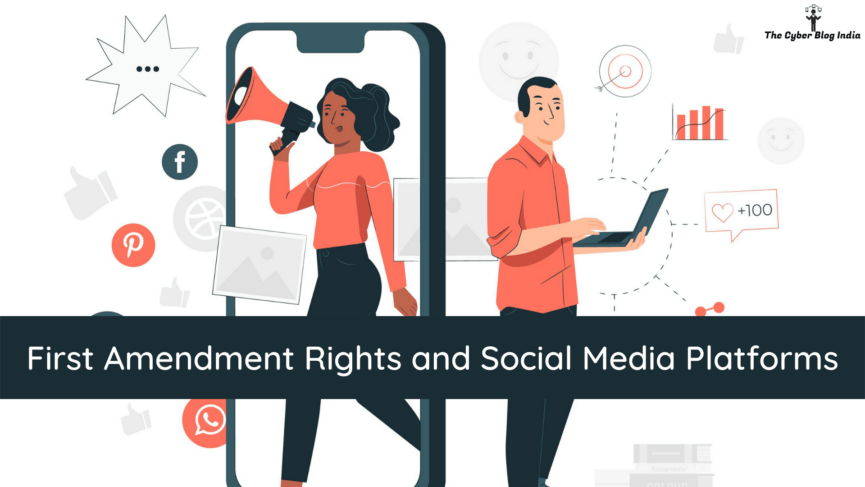 As humans cannot live without air and water, a democracy cannot survive without offering citizens an open podium to express their views. The US Constitution, through its First Amendment, provides for freedom of speech. It restricts the legislative power of Congress in framing laws that curtail the freedom of speech. However, it does not explicitly mention social media platforms, which has led to several debates over the years. Imagine you post something on a platform about the discrimination you faced. Hours later, the platform kicks you off by saying that you have shared hate speech. Will you not feel deprived of your freedom of speech? As far as my understanding goes, I am sure you will.
Freedom of Speech in the USA
The USA recently witnessed a decline in scores of the Democracy Index of 2020. The report suggested caged freedom of speech on social media platforms as one of the reasons for this decline. Is it possible to hold the First Amendment responsible for this situation?
Scope of the First Amendment
As per the First Amendment, freedom of speech is protected only against Congress. It indirectly allows social media platforms to limit freedom of speech without having any constitutional constraints. Consequentially, it leads to denial of freedom of speech in a practical sense. In a 2017 judgement, the US Supreme Court reversed a North Carolina Supreme Court judgement that recognised the validity of a state law prohibiting registered sexual offenders from using social media platforms. The majority opinion in Packingham v. North Carolina considered social media platforms as protected space under the First Amendment.
Role of social media platforms
Every social media platform has a dedicated set of terms and conditions. A user must accept them for using their platform. These terms and conditions talk about the types of users allowed, prohibited content, etc. Unfortunately, in this process, the oppressed section and minorities are more vulnerable to the selective harshness of fellow users as well as social media platforms. For example, in a 2020 study, researchers found that black individuals who posted about racial discrimination on social media were less likely to get a job offer. Further, the operation of political and economic pressures can often be termed as mere speculations. Former US President Donald Trump's Twitter account suspension shows that social media platforms are beyond these forces. Considering the role of social media platforms in daily communication, the absence of specific obligations may act as an instrument of oppression.
Is it possible to include social media platforms in the scrutiny of the First Amendment?
This question is the biggest debate concerning social media platforms and the First Amendment. One possible way to include social media platforms is by relying on the exception of public function, as discussed in Marsh v. Alabama. However, the courts have narrowed this concept over time by only considering the exclusive functions of the state. In Manhattan Community Access Corp v. Halleck, the US Supreme Court introduced the Common Sense Principle. According to this principle, it is commonly understood that social media platforms cannot be considered state actors. It is not only the government that provides an open platform to the public for expressing their views. This judgement essentially restricts the application of public function exception on social media platforms.
Possible Solutions
On the one hand, we recognise social media platforms as a powerful communication medium. On the other hand, we do not have a solid mechanism for safeguarding freedom of speech on these platforms. For recognising freedom of speech on these platforms, the government and platforms must act together. A government can:
frame rules for censorship and access to social media platforms,
lay down rules for liability and accountability,
implement grievance redressal mechanisms for grievances against social media platforms, and
provide incentives for self-regularisation.
These actions can be supported by social media platforms by introducing transparency in how they self-regulate themselves. The platforms can:
frame code of conduct for the users,
carry out timely surveys for checking compliance,
specify the types of prohibited content, and
establish a grievance redressal mechanism.
To minimise the conflicts, self-regulation appears to be the best possible solution. A government may prefer to define the high-level requirements while the platforms work on the specifics.
---
Featured Image Credits: Social media vector created by stories – www.freepik.com