The Queen v. Secretary of State for the Home Department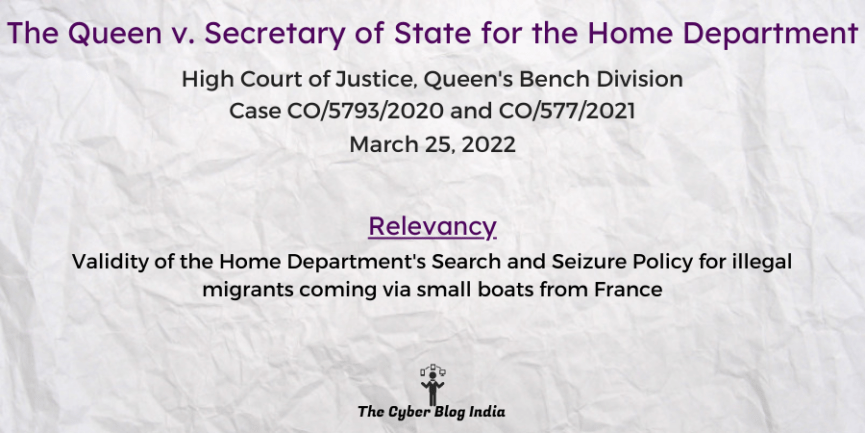 The Queen v. Secretary of State for the Home Department
[2022] EWHC 695 (Admin)
In the High Court of Justice, Queen's Bench Division
Case CO/5793/2020 and CO/577/2021
Before Lord Justice Edis and Justice Lane
Decided on March 25, 2022
Relevancy of the Case: Validity of the Home Department's Search and Seizure Policy for illegal migrants coming via small boats from France
Statutes and Provisions Involved
The Immigration Act 1971 (Paragraph 25B)
The Immigration Act 2016 (Section 48)
The Data Protection Act 2018
European Convention on Human Rights (Article 8)
Relevant Facts of the Case
Multiple criminal enterprises allow migrants to enter the United Kingdom from France. These criminal enterprises require payment for providing the potential migrant with a place in a small boat.
In 2021, 1034 small boats made the journey, carrying more than 28,000 individuals. To deal with this issue, the Home Department has taken multiple initiatives.
The claims in the present case concern the search and seizure of, and the retention of data taken from, the mobile phones of individuals who arrived from France in these small boats.
The search and seizure policy provided for phones to be retained for a minimum period of 3 months. It also contained provisions requiring an individual to disclose the PIN numbers for their phones. This policy was a part of the defendant's "Gold Command" strategy to address the issue of illegal border crossings.
The defendant has already accepted that the seizure policies under challenge were unlawful because they were blanket in nature and unpublished. They were not in accordance with the law for the purpose of ECHR and did not provide a lawful basis for data processing as per the Data Protection Act 2017.
The claimants have approached the court on a total of 9 grounds. However, the defendant's acceptance conceded the claims made in grounds 2, 3, 5, 6, 7, 8, and 9.
The defendant also made a self-referral to the Information Commissioner's Office after a data breach incident.
Prominent Arguments by the Counsels
The claimant's counsel submitted that the defendant's acceptance was extremely late.
The defendant admitted that the blanket policy's unlawful nature has several consequences. The blanket policy's precise origins are unknown; however, this means that the officers did not consider if their statutory powers were met.
Opinion of the Bench
The defendant has conceded that the blanket policy was unlawful since it was not published. As a part of search and seizure, the extraction policy was capable of giving rise to disproportionate interference with ECHR rights and data protection legislation. This possibility existed because the defendant's officers could extract complete data from every mobile phone. The PIN policy required the officers to commit an unlawful act against multiple people on multiple occasions.
Sub-paragraphs (8A) to (8D) of Paragraph 25B of Schedule 2 to the Immigration Act 1971 concern documents stored in electronic medium or on a device found on a person. They empower an officer to seize the device or the medium in certain circumstances. However, the records do not show that the seizure of devices from the claimants was in line with Paragraph 25B. The seizure was under the defendant's blanket policy.
The Information Commissioner's Office is well paced to investigate the matters related to data breaches under the Data Protection Act.
Final Decision
The claims in this case are successful. There shall be a further hearing to decide the exact contents of the order.