Tarun Dutt v. Govt. of NCT, Delhi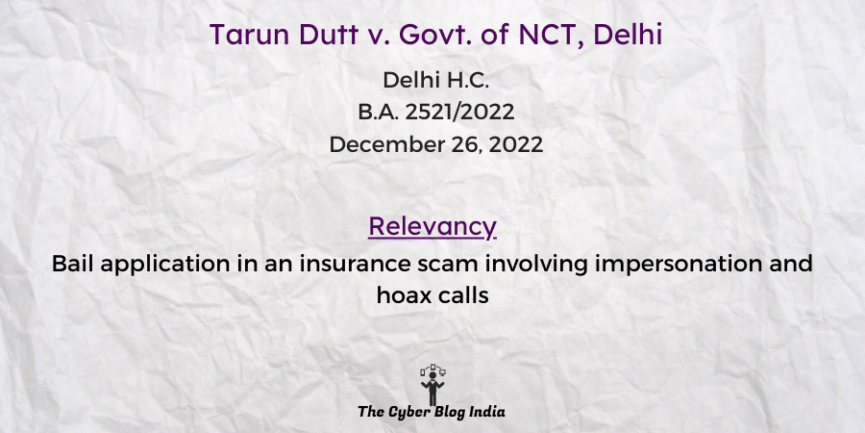 Tarun Dutt v. Govt. of NCT, Delhi
In the High Court of Delhi
B.A. 2521/2022
Before Justice Amit Mahajan
Decided on December 26, 2022
Relevancy of the case: Bail application in an insurance scam involving impersonation and hoax calls
Statutes and Provisions Involved
The Information Technology Act, 2000 (Section 66D)
The Indian Penal Code, 1860 (Section 34, 120B, 420)
Relevant Facts of the Case
The applicant was part of a fake insurance bonus scam scheme that cheated the victim by impersonating the Senior Director of the Income Tax Department, MCA, through fraud calls and fake emails.
The scammed complainant deposited almost ₹1.2 crores from 2015-2018 in various accounts.
Bank account KYC Details disclosed the mobile numbers used to fraud the complainant. These mobile numbers were active.
The chargesheet alleged that the applicant took ₹9,04,350 and ₹2,70,600 in the accounts of his brother-in-law and brother, respectively.
The Trial Court dismissed the applicant's bail application, presuming that he would likely tinker with the ongoing investigation.
Prominent Arguments by the Advocates
The applicant's counsel argued that the applicant was undertrial for almost 2 years in custody while the other co-accused received bail. Further, the applicant's bail was dismissed on a wrong presumption regarding the likelihood of tinkering with the investigation. Also, while other co-accused secured bail, the applicant is suffering with less possibility of a speedy trial and a grieving family.
The state's counsel opposed the bail on the grounds of gravity and manner of offence, disentitling the accused of any consideration.
Opinion of the Bench
The trial court's presumption is a bald assertion. Undertrial prisoners cannot be detained for an unknown period if a speedy trial is not possible.
Final Decision
The bench allowed the bail application with conditions.