Surinder Singh v. UT, Chandigarh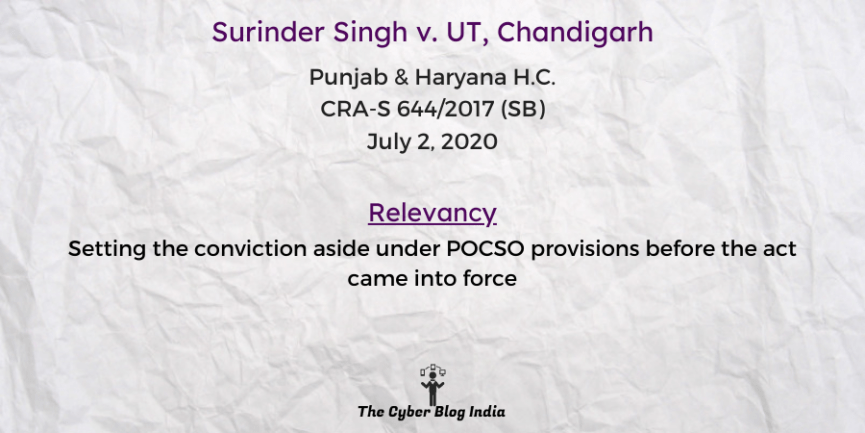 Surinder Singh v. UT, Chandigarh
(2020) 3 RCR (Cri) 53
In the High Court of Punjab and Haryana
CRA-S 644/2017 (SB)
Before Justice Anil Kshetarpal
Decided on July 2, 2020
Relevancy of the case: Setting the conviction aside under POCSO provisions before the act came into force
Statutes and Provisions Involved
The Information Technology Act, 2000 (Section 66A)

The Indian Penal Code, 1860 (Section 120B, 354A, 323, 506, 292)

The Code of Criminal Procedure, 1972 (Section 173)

The Protection of Children from Sexual Offences Act, 2012 (Section 8, 12) 
Relevant Facts of the Case
The prosecutrix's father had left the house after a dispute with his wife. The wife's sister's husband, the petitioner, lived with the prosecutrix and her mother. 

He repeatedly made sexual advances to the prosecutrix; however, she rejected these. She told this to her mother, but the mother badly beat her.

The petitioner then showed a DVD containing her mother's video. He threatened her to make it public if the prosecutrix did not have sex with him.

The prosecutrix told her mother this and received a severe beating.

After this, she called her father who admitted her to a hospital and called the police.
Prominent Arguments by the Advocates 
The petitioner's counsel argued that these events took place before the Protection of Children from Sexual Offences Act, 2012 came into force or after the prosecutrix became major. 

The counsel further submitted that the prosecutrix has made vague statements and is not telling the correct facts. The counsel also stated that they had not completed the submission of the laptop/computer where the porn video was downloaded at this stage.

The counsel stated that there was no independent witness examined when the beating took place, and there was a delay of one month in filing the FIR. Also, there are discrepancies with the statement of the prosecutrix.

The respondent's counsel requested for a grant of compensation to the prosecutrix. 
Opinion of the Bench
The bench agreed with the contention of the petitioner's counsel that the event took place before the POCSO Act 2012, and thus, Sections 8 and 12 are not applicable. 

There are minor discrepancies in the prosecutrix statement, which is understandable as no one has a photographic memory. Moreover, the prosecutrix has not made major changes in her statement. 

There were independent witnesses who were tourists from Goa, and they saw the beatings. 

The delay in filing the FIR was simply because the sensitive young girl took her time to initiate action, and she was not mentally prepared to give the complaint to the police.

It is rare that a daughter prosecutes her mother, and the facts show that the prosecutrix hesitated to file the complaint against her mother. 
Final Decision
The trial court made an error in convicting the accused under Section 354A of the Indian Penal Code, 1860 and Sections 8 and 12 of the Protection of Children from Sexual Offences Act, 2012.

The bench accepted the application.

---
Marc Pereira, an undergraduate student at Rizvi Law College, Mumbai, prepared this case summary during his internship with The Cyber Blog India in January/February 2022.