Sudesh Kumar Rai v. State of Chhattisgarh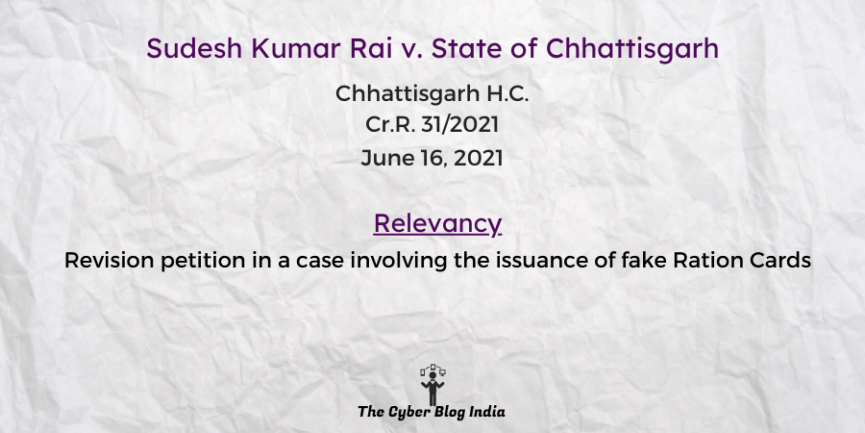 Sudesh Kumar Rai v. State of Chhattisgarh
In the High Court of Chhattisgarh
Cr.R. 31/2021
Before Justice Rajendra Chandra Singh Samant
Decided on June 16, 2021
Relevancy of the case: Revision petition in a case involving the issuance of fake Ration Cards.
Statutes and Provisions Involved
The Information Technology Act, 2000 (Section 66C, 66D)
The Indian Penal Code, 1860 (Section 409, 419, 420, 468, 471, 413, 120B, 201, 217, 34)
The Code of Criminal Procedure, 1973 (Section 227)
The Essential Commodities Act, 1955 (Section 3(1), 7)
The Benami Transactions (Prohibition) Act, 1988 (Section 2(c))
Relevant Facts of the Case
The applicants are inspectors of documents and verify the same for issuing ration cards. However, an investigation revealed that the issued number of cards far exceeded the verified documents.
Subsequently, they filed an application under Section 227 of CrPC stating that they have been falsely implicated as no material is present in the charge sheet to prove an offence.
They filed an appeal before the Additional District and Sessions Judge, Rajnandgaon. The court had partly allowed their appeal and discharged them under Section 413 of the Indian Penal Code, 1860. Moreover, the court ordered the Chief Judicial Magistrate to conduct a trial for the remaining offences.
Prominent Arguments by the Advocates
The applicant's counsel argued that the accused were not responsible for verifying documents for issuing cards at the first instance. The process involved many other government officers.
On the other hand, the state counsel submitted that there is prima facie evidence of the applicant's involvement.
Opinion of the Bench
The applicants were not entrusted with any kind of property as defined in Section 2(c) of the Benami Transactions (Prohibition) Act, 1988. Also, the term does not have a different meaning in Section 409 of the Indian Penal Code, 1860 either. Hence, the charge under Section 409 does not appear to be justifiable.
Moreover, charges under Sections 463, 419, 420, 471, 120B and 217 are also baseless.
The charges under Section 66C and 66D of the Information Technology Act, 2000 are also baseless. Further, they were not responsible for making entries on a computer.
Final Decision
The court allowed the revision petition and disposed of the petition.
---
Julia Anna Joseph, an undergraduate student at Christ (Deemed to be University), prepared this case summary during her internship with The Cyber Blog India in January/February 2022.