State of Uttarakhand v. Akhtar Ali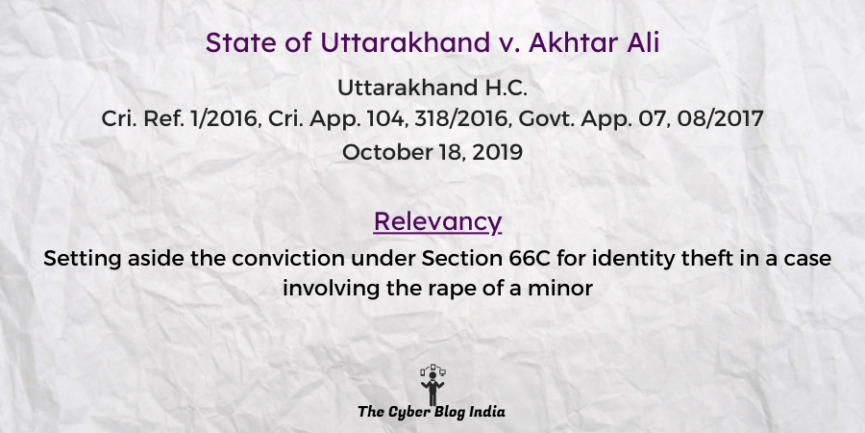 State of Uttarakhand v. Akhtar Ali
In the High Court of Uttarakhand
Cri. Ref. 1/2016, Cri. App. 104, 318/2016, Govt. App. 07, 08/2017
Before Justice Alok Singh and Justice Ravindra Maithani
Decided on October 18, 2019
Relevancy of the Case: Setting aside the conviction under Section 66C for identity theft in a case involving the rape of a minor
Statutes and Provisions Involved
The Information Technology Act, 2000 (Section 66C)
The Protection of Children from Sexual Offences Act, 2012 (Section 3, 4, 5, 6, 7, 8)
The Indian Penal Code, 1860 (Section 120B, 201, 212, 363, 376A)
Relevant Facts of the Case
In this case, the Fast Track court has convicted three accused for abduction and rape of a seven year old girl in Haldwani, Uttarakhand.
These convictions are as follows:

Akhtar Ali: Sections 201, 363, and 376A of the Indian Penal Code, 1860, Sections 3, 4, 5, 6, 7, and 8 of the Protection of Children from Sexual Offences Act, 2012, and Section 66C of the Information Technology Act, 2000
Prem Pal Verma: Section 212 of the Indian Penal Code, 1860, and Section 66C of the Information Technology Act, 2000
Junior Masih: Acquittal under all charges

The victim went missing at a marriage function in the city. The victim's father filed a complaint with the police and the police had started the investigation. Later, her dead body was found at a nearby place.
Subsequently, the police sent the dead body fo post mortem. The post mortem report clearly indicated that she was raped and had serious injuries.
Prominent Arguments by the Advocates
The counsel representing Prem Pal submitted that merely using a SIM card of another person does not attract Section 66C of the Information Technology Act, 2000.
The prosecution stated that Prem Pal used the SIM card of P.S. Dhami and kept on informing Akhtar Ali after the incidents. Therefore, both the charges hold true and the court should dismiss the appeal.
Moreover, the prosecution elaborated on the location of the accused persons on the day of the incident and thereafter. The police have conducted telephonic surveillance and on this basis, they were able to arrest Akhtar Ali from Ludhiana.
Opinion of the Bench
Section 66C provides for an offence when there is fraudulent or dishonest use of electronic signature, password, or any other identification feature. Further, the prosecution has submitted that the mobile numbers used by Akhtar Ali were issued in the name of Laxmi Devi and Mohd. Iqbal. However, the prosecution has not examined them in court.
They have not stated on oath that Akhtar Ali has fraudulently used their identities. Hence, all the requirements of Section 66C have not been fulfilled.
The court considered the same arguments by the parties while hearing on the conviction of Prem Pal under Section 66C, and the acquittal of Junior Masih on all charges, including 66C.
Final Decision
As a result, the court acquitted Akhtar Ali and Prem Pal for charges under Section 66C of the Information Technology Act, 2000.
However, the court upheld and confirmed all other convictions and sentences.