State of Chhattisgarh v. Rahul Atul Kumar Gupta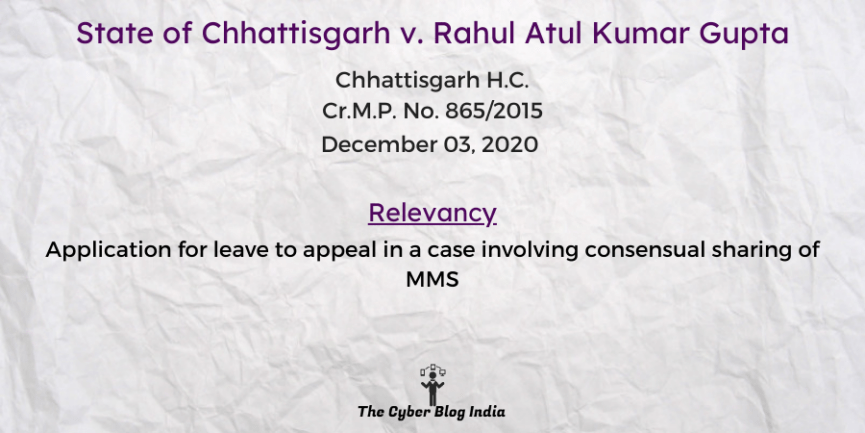 State of Chhattisgarh v. Rahul Atul Kumar Gupta
In the High Court of Chhattisgarh
Cr.M.P. No. 865/2015
Before Chief Justice Navin Sinha and Justice P Sam Koshy
Decided on December 15, 2015 
Relevancy of the case: Application for leave to appeal in a case involving consensual sharing of MMS
Statutes and Provisions Involved
The Information Technology Act, 2000 (Section 67B)

The Indian Penal Code, 1860 (Section 376(2)(g), 292)

Indecent Representation of Women (Prohibition) Act, 1986

(Section 6) 

The Scheduled Castes and the Scheduled Tribes (Prevention of Atrocities) Act, 1989 (Section 3(2)(v))
 Relevant Facts of the Case
The prosecutrix met the respondent when they started studying in the same college. They entered into a physical relationship for 3-4 years.

At the request of the respondent, the prosecutrix herself prepared an MMS clip and forwarded it to him.
Prominent Arguments by the Advocates
The learned counsel for the state submitted that it should be taken into consideration that consent for physical relations was given on the false promise of marriage. 
Opinion of the Bench
The bench believed that the prosecutrix knew that she was entering into a consensual relationship with the respondent. 

The Court also stated that the police could not trace the MMS, which is a serious lapse of Forensic investigation. 
Final Decision
The application was dismissed. 
---
This case summary has been prepared by Anushka Ojha, an undergraduate student at Bharati Vidyapeeth New Law College, Pune, during her internship with The Cyber Blog India in May/June 2021.