State Bank of India v. Nakoda Chemicals Ltd.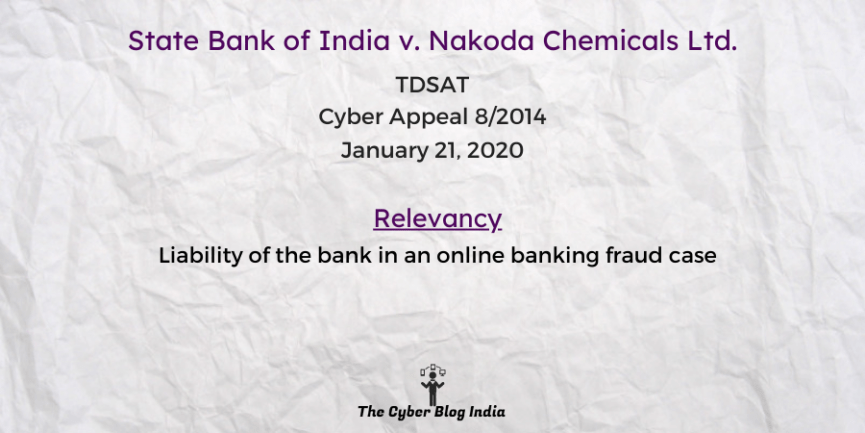 State Bank of India v. Nakoda Chemicals Ltd.
In the Telecom Disputes Settlement and Appellate Tribunal
Cyber Appeal 8/2014
Before Justice Shiva Kirti Singh, Chairperson
Decided on January 21, 2020
Relevancy of the Case: Liability of the bank in an online banking fraud case
Statutes and Provisions Involved
The Information Technology Act, 2000 (Section 43, 43A)
Relevant Facts of the Case
Nakoda Chemicals Ltd has a bank account with the State Bank of India.
They lost ₹18.35 lakhs due to 20 online transactions to 20 different accounts.
Subsequently, the fraudsters withdrew money from various SBI ATMs in different cities.
The respondent filed a complaint before the IT Adjudicator. The learned Adjudicator allowed the claim and directed the bank to compensate the loss incurred at an 18% interest, along with a cost of ₹39,750.
Prominent Arguments by the Advocates
The appellant's counsel contended that the respondent has suffered the loss due to their negligence. Authorised users of the respondent company provided the company account's login information on a phishing link. They did not verify this link with the bank. Further, they are also liable for contributory negligence.
The respondent's counsel relied on Section 43 and 43A of the Information Technology Act, 2000. Since SBI is a body corporate, the bank must follow the RBI guidelines for payment authorisation. The bank has failed to follow the relevant RBI guidelines.
Opinion of the Bench
The bank has failed to comply with the statutory requirement of providing reasonable security measures by sending OTP/SMS to the respondent company.
Moreover, there is contributory negligence on the bank's part. The bank has not approached the tribunal with clean hands, i.e., they did not adhere to the RBI guidelines.
Final Decision
The tribunal dismissed the appeal and upheld the Adjudicating Officer's order.
Also, the tribunal directed the appellant to pay ₹18.35 lakhs at a 12% interest, along with ₹50,000 in costs. The interest rate shall revert to 18% if the bank fails to pay within two months.
---
Parth Chaturvedi, a graduate of the Faculty of Law at the University of Allahabad, prepared this case summary during his association with The Cyber Blog India in January 2022.