Sitendra Pathak v. State of Rajasthan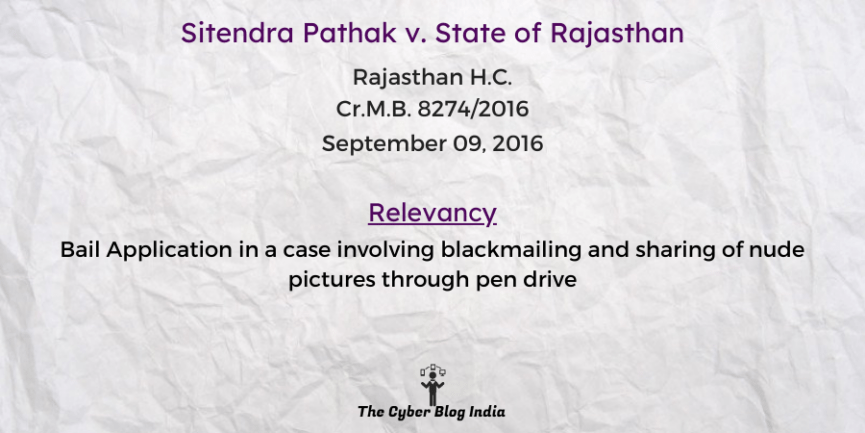 Sitendra Pathak v. State of Rajasthan
In the High Court of Rajasthan
Cr.M.B. 8274/2016
Before Justice Nirmaljit Kaur
Decided on September 09, 2016
Relevancy of the case: Bail Application in a case involving blackmailing and sharing of nude pictures through pen drive
Statutes and Provisions Involved
The Information Technology Act, 2000 (Section 67)
The Code of Criminal Procedure, 1973 (Section 439, 164)
The Indian Penal Code, 1860 (Section 376, 384)
Relevant Facts of the Case
The petitioner and the prosecutrix lived in the same building.
The petitioner allegedly misled her into having a physical relationship with him and started blackmailing her.
The prosecutrix agreed to a compromise, but later her brother allegedly received a pen drive containing her nude pictures.
No evidence relating to the said pen drive was submitted.
Opinion of the Bench
As no evidence was submitted, the petitioner should be granted bail.
Final Decision
Petition allowed.
Bail granted with conditions.
---
This case summary has been prepared by Tuba Aftab, an undergraduate student at IIMT & School of Law, GGSIPU, during her internship with The Cyber Blog India in May/June 2021.