Sharat Babu Digumarti v. State (Govt. of NCT of Delhi)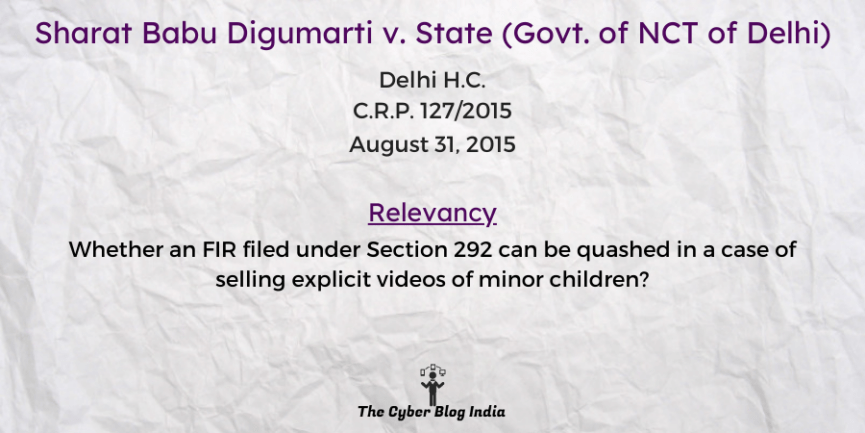 Sharat Babu Digumarti v. State (Govt. of NCT of Delhi)
In the High Court of Delhi
C.R.P. 127/2015
Before Justice S P Garg
Decided on August 31, 2015
Relevancy of the case: Whether an FIR filed under Section 292 can be quashed in a case of selling explicit videos of minor children?
Statutes and Provisions Involved
The Information Technology Act, 2000 (Sections 67, 85)

The Indian Penal Code, 1860 (Sections 292, 294)

The Indian Evidence Act, 1872 (Section 65B)

The Code of Criminal Procedure, 1973 (Section 91)
Relevant Facts of the Case
A video was being sold on bazee.com which portrayed two minors in sexually explicit positions. 

An alert for the same was given, and it was up for 38 hours before being removed.

The petitioner is Sharat Babu Digumarti (Senior Manager, Trust and Safety) of the concerned platform.

The Supreme Court had quashed proceedings against Avnish Bajaj (co-accused), on the ground that he being the Director cannot be prosecuted for the offence under Section 67 read with Section 85 of the Information Technology Act, 2000, when the company is not implicated as an accused on the ground of parity challenging the legality of the order of the CMM ordering framing of charges under Section 292 of the Indian Penal Code, 1860. 

The petitioner moved to the trial court, where he was discharged of offences under Section 67 read with Section 85 and Section 294, but not Section 292.

Here, he has filed a revision petition against the framing of charges under Section 292.
Prominent Arguments by the Advocates 
The petitioner's counsel argued that the petitioner and Avnish Bajaj were in similar circumstances. Further, that as the petitioner is being charged solely because of his status as manager, ingredients of Section 292 are not made out. Lastly, that mere negligence in removing the video was not sufficient to attract criminal prosecution, and that there were no standards to determine what conduct would be considered illegal.
Opinion of the Bench
The petitioner's case stands on a different footing in comparison to the case of Avnish Bajaj. The liability sought is of individual capacity for an offence under Section 292.

Placing an advertisement on the website, where the viewer is informed that obscene material is available, is enough to attract Section 292(2)(d).

The petitioner had a duty to exercise a high degree of care, especially when victims of the video were two minor children. The trial should ascertain whether or not the petitioner took correct measures/precautions.
Final Decision
---
This case summary has been prepared by Mehula Liza Pallathu, an undergraduate student at National University of Advanced Legal Studies, Kochi, during her internship with The Cyber Blog India in May/June 2021.