Shailendra Bias v. State of Haryana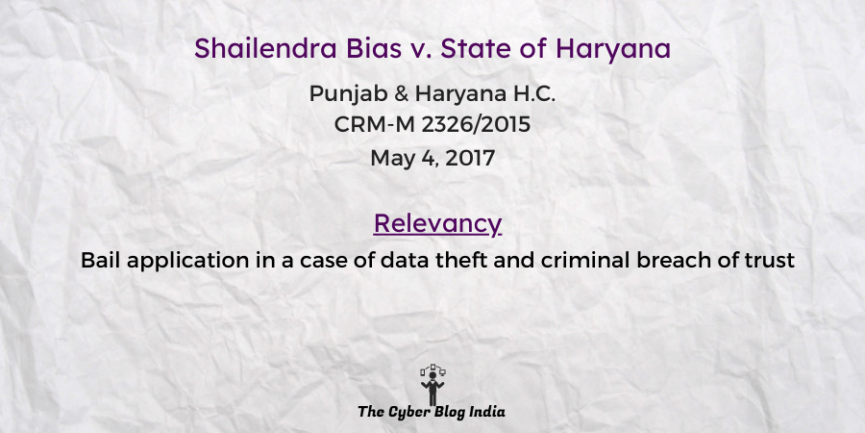 Shailendra Bias v. State of Haryana
In the High Court of Punjab & Haryana
CRM-M 2326/2015
Before Justice A.B. Chaudhari
Decided on May 4, 2017
Relevancy of the case: Bail application in a case of data theft and criminal breach of trust
Statues and Provisions Involved
The Information Technology Act, 2000 (Section 66B)
The Indian Penal Code, 1860 (Section 408, 120B)
Relevant Facts of the Case
The accused persons are employees of PCI Ltd. (complainant). They resigned and set up their own company. Further, they are doing business in collaboration with another company similar to the complainant.
The allegations say that the accused committed breach of trust and stole data from the complainant company. As a result, they have lost up to 100 crores.
Prominent Arguments by the Advocates
The petitioner's counsel argued that the court would grant bail if the three accused persons joined the investigation. All three accused have joined the investigation and are fully cooperating.
The counsel further submitted that they had submitted the laptop to the investigating officer. Nothing more can be done from the petitioner's side.
The respondent's counsel submitted that the accused conspired to dupe the complainant company with dishonest intentions.
The counsel submitted that the accused have also committed fraud and forgery upon the complainant company along with breach of trust.
Opinion of the Bench
There is no need to hold the accused for custodial interrogation anymore.
The Magistrate Court can try the offences; thus, the interim orders of bail can be made absolute.
Final Decision
The bench allowed the bail application.
---
Marc Pereira, an undergraduate student at Rizwi Law College, Mumbai, prepared this case summary during his internship with The Cyber Blog India in January/February 2022.