Sanjeevan Ramchandran Nair v. State of Maharashtra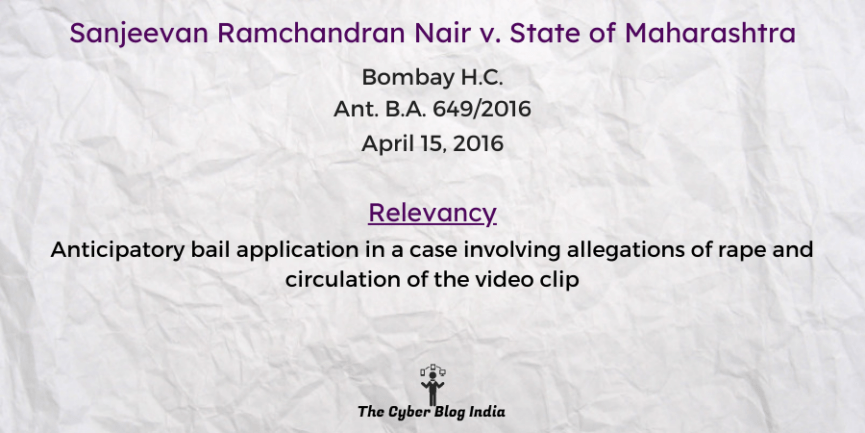 Sanjeevan Ramchandran Nair v. State of Maharashtra
In the High Court of Bombay
Ant. B.A. 649/2016
Before Justice Mridula Bhatkar
Decided on April 15, 2016
Relevancy of the case: Anticipatory bail application in a case involving allegations of rape and circulation of the video clip
Statutes and Provisions Involved
The Information Technology Act, 2000 (Section 67)
The Indian Penal Code, 1860 (Section 376, 406, 506)
Relevant Facts of the Case
The victim was a married woman. In December 2009, the accused, on the pretext of giving her a job, took her to the industrial area near Navi Mumbai and demanded sexual relations from her.
The complainant refused, but the accused raped her and warned her that she should not tell the incident to anyone.
In January 2010, the accused told the victim that he had recorded sexual intercourse with her on his cell phone and threatened to circulate the video clip on social media if she did not continue their physical relations. Therefore, the victim agreed to continue sexual relationships with him.
Subsequently, her husband left the victim, and the complainant started residing with the accused. During that period, she gave gold ornaments to the applicant/accused as he wanted money.
However, in January 2016, the accused asked the victim to have intercourse with his friend.
So, she registered a complaint against the accused.
 Opinion of the Bench
The judge was inclined to protect the accused as there was no evidence of the circulation of video.
Final Decision
Application allowed.
Anticipatory bail granted on certain conditions.
---
This case summary has been prepared by Mehula Liza Pallathu, an undergraduate student at National University of Advanced Legal Studies, Kochi, during her internship with The Cyber Blog India in May/June 2021.