Sanjay Pandey v. Directorate of Enforcement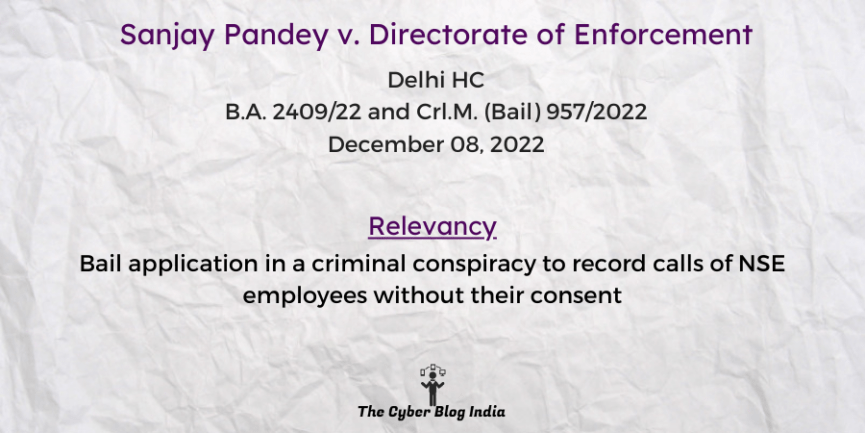 Sanjay Pandey v. Directorate of Enforcement
In the High Court of Delhi
B.A. 2409/22 and Crl.M. (Bail) 957/2022
Before Justice Jasmeet Singh
Decided on December 08, 2022
Relevancy of the Case: Bail application in a criminal conspiracy to record calls of NSE employees without their consent
Statutes and Provisions Involved
The Information Technology Act, 2000 (Section 69B, 72, 72A)
The Indian Penal Code, 1860 (Section 120B, 409, 420)
The Indian Telegraph Act, 1885 (Section 3(1AA), 4, 5, 20, 21, 23, 24, 25(b), 26)
The Indian Wireless Telegraphy Act, 1933 (Section 3, 6)
The Prevention of Corruption Act, 1988 (Section 13(1)(d), 13(2))
Relevant Facts of the Case
National Stock Exchange (NSE) approached ISEC Services Private Limited (ISEC) around 2009 with a request to conduct an analysis of recorded calls. ISEC submitted that NSE has been monitoring calls from in-premise landlines since 1997.
NSE required ISEC to analyze the pre-recorded call data of its employees on a weekly basis. Therefore, it should submit a report to NSE officials. This work required ISEC to flag pre-recorded calls as suspicious based on their content.
The prosecution's case states that the petitioner and ISEC illegally intercepted MTNL lines and recorded calls of NSE officials between 2009 and 2017. Further, they prepared and sent transcripts to NSE without adhering to Section 5 of the Indian Telegraph Act, 1885.
For this work, ISEC received a sum of ₹4.54 crores from NSE.
After the FIR, the CBI searched ISEC offices and seized various articles, along with his mobile.
While the ED arrested him on July 19, 2022, the CBI arrested him on September 24, 2022.
Prominent Arguments by the Advocates
The petitioner's counsel argued that NSE is not prohibited from recording their conversations on their landlines on their premises. Further, the petitioner did not do any act for dishonest purposes. The petitioner and ISEC only performed their end of responsibilities in their contract with NSE. Moreover, none of the provisions in the FIR are cognizable. The offences are not scheduled since the recording device is not a telegraph.
 The respondent's counsel submitted that there existed a criminal conspiracy disguised under cyber vulnerabilities at NSE due to phone tapping without authorization. Per Vijay Madanlal Choudhary v. Union of India (2022), scheduled offences under the PMLA for granting bail are cognizable and non-bailable. Moreover, the petitioner assisted in illegal activities and benefitted, while ISEC did so through a criminal conspiracy with NSE by unlawful phone tapping.
Opinion of the Bench
The court relied on Justice KS Puttaswamy (Retd) & Anr v. UOI and Ors. to conclude that tapping phone lines or recording calls without consent is a breach of privacy.
However, there is no likelihood of the petitioner committing an offence under the PMLA if released on bail.
At the stage of bail, the court can only assess the matter on broad probabilities instead of determining the guilt of the accused.
Final Decision
The court allowed the bail application, subject to conditions.
---
Aparna Ajay, an undergraduate student at Symbiosis Law School, Hyderabad, and Saatvika Reddy Sathi, an undergraduate student at Jindal Global Law School, Sonipat, prepared this case summary during their internship with The Cyber Blog India in January/February 2023.