Sanjay Kumar v. State of Haryana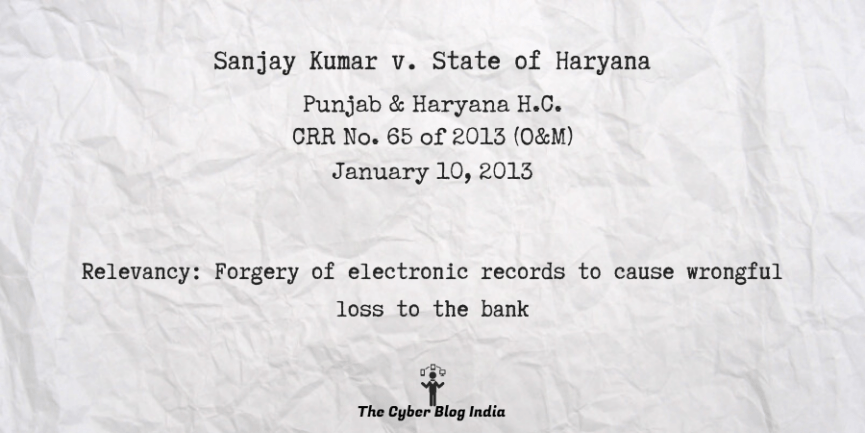 Sanjay Kumar v. State of Haryana
In the High Court of Punjab and Haryana
CRR No. 65 of 2013 (O&M)
Before Justice Paramjeet Singh
Decided on January 10, 2013
Relevancy of the case: Forgery of electronic records to cause wrongful loss to the bank
Statutes & Provisions Involved
The Indian Penal Code, 1860 (Section 420, 467, 468)
The Information Technology Act, 2000 (Section 65, 66, 72)
Relevant Facts of the Case
The Branch Manager, Bank of Baroda, Faridabad moved a complaint dated 17.02.2003 before the Police stating that the petitioner was deputed by M/s. Virmati Software and Telecommunication Ltd. to maintain the Software System supplied by them to the bank.
In connection with rendering such services, the petitioner was having access to their accounting system which was computerized and was also in a position to enter into ledgers and various other accounts.
While condensing the files, certain discrepancies were pointed out by the officials of the bank and in that process, it was revealed that the accused-petitioner manipulated the entries by forging and fabricating certain entries from one account to another in the computer system by handling the software and got the entries pertaining to the amount of the bank in his favour and knowingly and intentionally withdrew the amount from the bank.
As per enquiry, it has been revealed that the accused by carrying out forgery, and fabricating the entries in the computer system of the bank, illegally and wrongfully, withdrew Rs. 3,20,000/- from the bank and thus, caused wrongful gain to himself and wrongful loss to the bank.
Prominent Arguments by the Advocates
Mr Vikas Lochab, Counsel for the Petitioner:
The petitioner has been falsely implicated in this case as the complainant and eye witness were inimical to the petitioner as they were having a dispute about 15 to 16 years prior to the occurrence. Learned counsel further contended that there is no direct evidence to connect the petitioner with the alleged offence in question, therefore, no prima facie case has been made out against the petitioner. The petitioner had deposited the whole amount to the bank on the very same day and no loss was caused to the bank. So, the ingredients of the offences are not made out.
Opinion of the Bench
The learned Trial Court was wholly justified in convicting the accused-petitioner and the learned Appellate Court, as can be seen, had not committed any error in upholding the conviction of the accused petitioner. Learned counsel for the petitioner failed to point out any misreading or non-reading of any evidence and could not point out any infirmity in the judgments of the courts below. The findings of guilt, reached against the accused-petitioner does not, thus, suffer from any infirmity, legal or factual and does not, therefore, warrant interference by this court in the exercise of this court's revisional jurisdiction.
Final Decision
Learned counsel for the petitioner has failed to point out any illegality or perversity in the impugned judgments.
Hence, the petition is dismissed.
---
This case summary has been prepared by Mansi Vats, an undergraduate student at UPES School of Law, Dehradun, during her internship with The Cyber Blog India in June/July 2020.