Salim E. v. State of Kerala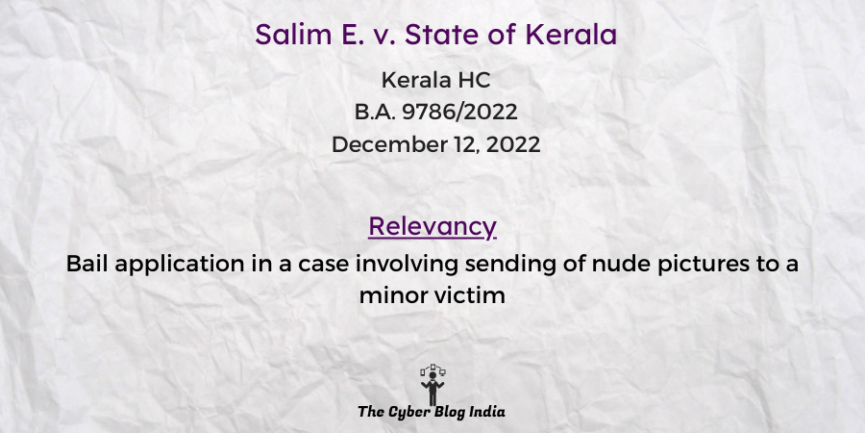 Salim E. v. State of Kerala
In the High Court of Kerala
B.A. 9786/2022
Before Justice Bechu Kurian Thomas
Decided on December 12, 2022
Relevancy of the case: Bail application in a case involving sending of nude pictures to a minor victim
Statutes and Provisions Involved
The Information Technology Act, 2000 (Section 67B)
The Indian Penal Code, 1860 (Section 354A, 354D, 506)
The Protection of Children from Sexual Offences Act, 2012 (Section 11, 12)
Relevant Facts of the Case
The accused sent nude pictures of himself to a minor victim (aged 13 years) over Instagram.
He threatened her and forced her to provide nude photographs of herself.
Prominent Arguments by the Advocates
The petitioner's counsel contended that the incident never occurred in the first place. The prosecution's allegations are baseless. The court should release the applicant on these grounds.
The respondent's counsel argued that the facts of the case remain intact and opposed the grant of bail on grounds of prejudice.
Opinion of the Bench
Further detention of the accused is not required, keeping in mind the nature of the allegations and facts of the case.
Final Decision
The bench granted the bail application, subject to certain conditions.
---
Kanika Verma, an undergraduate student at Dr. Ram Manohar Lohiya National Law University, prepared this case summary during her association with The Cyber Blog India in January 2023.