Sahil v. State of Maharashtra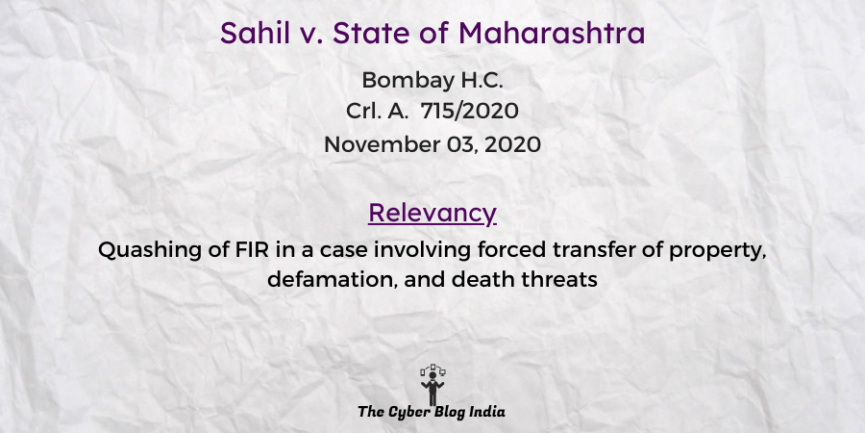 Sahil v. State of Maharashtra
(2021) 2 Bom CR (Cri) 247
In the High Court of Bombay
Crl. A. 715/2020
Before Justice V M Deshpande and Justice Anil S Kilor
Decided on November 03, 2020
Relevancy of the case: Quashing of FIR in a case involving forced transfer of property, defamation, and death threats
Statutes and Provisions Involved
The Information Technology Act, 2000 (Section 67)

The Indian Penal Code, 1860 (Sections 386, 420, 504, 506, 509)

The Code of Criminal Procedure, 1973 (Section 482) 
Relevant Facts of the Case
The complainant and the first applicant were in a relationship, where the applicant told the complainant that he loved her but could not marry her.

Due to parental pressure, the complainant married someone else, but the applicant would still call her and tell her that he loved her. Owing to this, the complainant took a divorce. 

The couple then bought a house together and the applicant engaged in physical relations with the complainant with the promise of marriage. 

The applicant, after some years, got married to the complainant. It was also found out that the applicant was previously married to someone else with whom he had not filed for a divorce. 

The complainant was assaulted and threatened to transfer the apartment to the first applicant. 

Owing to the death threats, defamation and assaults, she signed over the apartment as well as some blank documents, and her passport, Aadhaar card, and other documents were seized from her.

She was also made to say that she was having physical relations with other people, which was recorded on the phone of the first applicant.
Opinion of the Bench
After perusal of the documents, the Court concluded that documents that were signed by the complainant were not signed by free will. 

Further, the Court established that if a judge, during the trial, found that the offences committed went beyond the crimes which were registered, the same could be added at a later stage. Thus,  neither the FIR nor any further proceedings were quashed.  
Final Decision