[Review] Genie WiFi Router: Made In India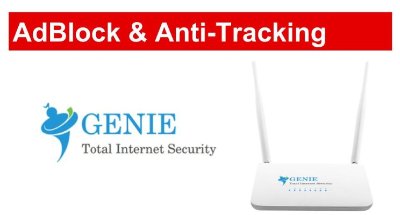 Recently, I happened to speak to the founder of OpenNetware, Mr. Mangesh Bhamre about their startup and recent initiatives. Some 10 minutes into the talk, I shared with him a common problem that many schools and households face: content filtering and protection of Children online. Speaking from my experience so far, this problem of Internet Security is widely felt by almost all citizen groups. It was then that I learned about Genie- a WiFi router that they have built not just to filter content that is sensitive in nature but even for protecting our day to day transactions. I had the urge to check it out because never had I seen a product like this of the Indian market origin.
I have used this router on my home connection for about 15 days now. There are many things that people can say about having to invest in a router a high amount when they can just install antiviruses, anti-spyware, anti-ransomware and what not. The idea behind security in the coming years is not going to be dispersed and scattered. It will be centralized. When you have multiple devices, would you want different antivirus installations on your devices or just your router to do it all for you. Filtering the junk at the source is what is really going to protect people. Protecting yourself at the level of internet access is, in fact a great idea!
In this post, I will not list out all the features. Instead, I will share some interesting things about this router which I found to be really cool and the "cons" as well.
Pros:
Out of the box set up: You do not need to know too much in order to set up the router. It took me around one minute to get internet running with the default settings.
3 different SSIDs, meaning that once you turn on the router, you can see three different WiFi names, One would be the main SSID, one childsafe and one for guest access. Default passwords and default panel passwords are in the box. If you are purchasing the router, please change these defaults.
No VPN access on Childsafe: Probably I don't need to mention that pornography and all other sort of content displaying websites are blocked. But what needs to be mentioned is that often circumvention is done of these technologies using VPNs. This problem has been tackled well. On the main SSID however, one can access VPN as well.
Tor or no Tor: The functionality to allow or disallow TOR browser connections has also been provided in the Administrator panel. So if you would like to give access, it is as simple as checking a box.
Filtering is pretty good: On YouTube and Google Searches even, the content filtering is done perfectly. A search for porn did not show up any "pornographic" content in the results of YouTube and other media websites as well for that fact.
Adblock: The router even blocks certain ads at the router level but I feel a browser extension is still needed for getting rid of some annoying ones.
All the other features of a high-end Home Router: It has all the recommended security settings for a router and other functionality like bandwidth control on different SSIDs as well. (You can limit the speed at which your guests can use the WiFi.)
Cons:
Some phishing websites are not blocked but the reason for which is that there are new ones every second. This still falls in favor of Genie.
Even though the device is out of the box, the functionalities like blocking TOR and VPN are only understandable by people who are savvy enough.
You can visit this link to purchase a router from Amazon. All in all, it is a great product and a must have for the ones looking at monitoring and filtering content at their homes, schools and offices. We are still in the process of testing for any other security flaws in this router. Any updates will be made here.