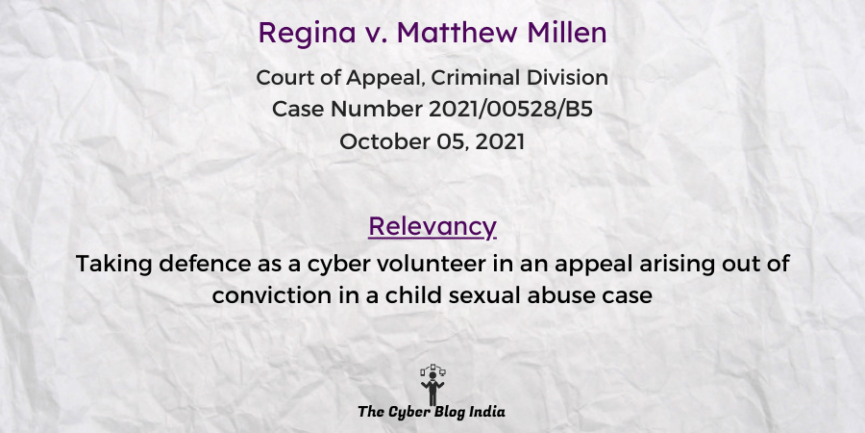 Regina v. Matthew Millen
[2021] EWCA Crim 1471
In the Court of Appeal, Criminal Division
Case Number 2021/00528/B5
Before Lord Justice Holroyde, Justice Holgate, and Justice Cockerill
Decided on October 05, 2021
Relevancy of the case: Taking defence as a cyber volunteer in an appeal arising out of conviction in a child sexual abuse case
Statutes and Provisions Involved
The Criminal Attempts Act 1981 (Section 1)
The Sexual Offences Act 2003 (Section 47)
Relevant Facts of the Case
An undercover police officer created an online persona called "John Austin" to catch hold of child predators on an online platform, Kink. He entered a room called family fun, where he met the applicant.
The officer told the applicant that he was willing to sell his 11-year-old daughter "Grace" for sexual favours in return for £300, to which the applicant agreed. They decided to meet at a famous restaurant in Southampton.
The police arrested the applicant, who possessed £300, two USB sticks and a laptop for recording purposes.
The applicant claimed that he was a paedophile hunter and played the role of a child abuser to catch hold of the person he thought to be an experienced paedophile and submitted oral evidence for the same.
The officer questioned the possession of USB drives and cash and the applicant's insistence on deleting messages.
Prominent Arguments by the Advocates
The applicant's counsel argued that the trial representative's decision not to call a social engineering expert rendered the conviction unsafe.
The prosecution argued that his defence could be advanced without mentioning the use of a social engineering expert since the need for an expert was not crucial to that defence.
Opinion of the Bench
There were severe weaknesses in the applicant's case, such as the deletion of messages, failure to report to the police, failure to record evidence, etc.
There was a mismatch between paedophile hunting and profiles of volunteer roles in the Essex Police.
The applicant did not produce the social engineering expert's report to the court.
Final Decision
The court concludes that it is not arguable to declare the conviction unsafe.
The court refused the convict's time extension to apply for a leave appeal.
---
Srikari Ammanamanchi, an undergraduate student at the NALSAR University of Law, prepared this case summary during her internship with The Cyber Blog India in May/June 2022.