Rajiv Dinesh Gadkari v. Nilangi Rajiv Gadkari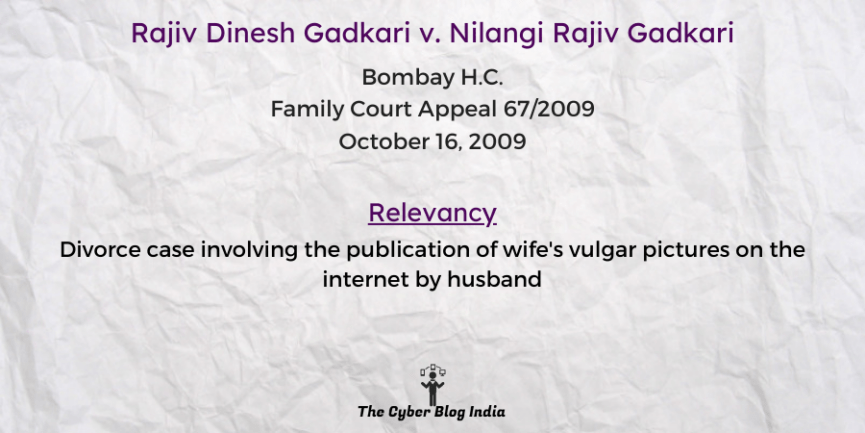 Rajiv Dinesh Gadkari v. Nilangi Rajiv Gadkari
In the High Court of Bombay
Family Court Appeal 67/2009
Before Justice P B Majumdar and Justice R V More
Decided on October 16, 2009
Relevancy of the case: Divorce case involving the publication of wife's vulgar pictures on the internet by husband
Statutes and Provisions Involved
The Information Technology Act, 2000 (Section 67)
The Hindu Marriage Act, 1955 (Section 13(1)(i)(a))
Relevant Facts of the Case
The respondent and petitioner were married in India in 2002, post which they moved to America because of the petitioner's job.
It was alleged by the respondent that the petitioner forced the respondent to change her lifestyle, and he was mentally unfit to marry, according to an ECG report which was hidden from her during the marriage.
She returned to India in 2003 and wanted to dissolve her marriage, hence seeking the petitioner's consent.
After some time, even though he consented to the divorce, he kept on harassing the respondent by posting vulgar pictures, texts, etc., on the internet. Strangers contacted her through emails and calls. The respondent alleges that the petitioner's actions have defamed her.
The petitioner had provided his power of attorney to his father, who passed away. After that, it was not transferred to anyone else. The petitioner refused to come to India from the USA for the case.
Prominent Arguments by the Advocates
The appellant's counsel submitted that the trial court gave its judgment based on written statements, and no cross-examination of the respondent was allowed at the trial.
They also contended that the respondent had taken all the single copies of her photographs to India and that there were chances that one of her admirers posted the pictures on the internet.
Opinion of the Court
The court believed that both the spouses should be present in a matrimonial case as they have personal knowledge, which nobody would know.
It was also stated that forcing the respondent to sacrifice her own culture and adopt a new culture would fall under 'cruelty'. Similarly, compelling the respondent to drink, dress in a certain way, and socialize with certain people when she didn't want to, also falls under 'cruelty'.
The court did not find any reason to interfere with the decision of the Family Court.
Final Decision
The appeal was dismissed.
---
This case summary has been prepared by Neelangini Tiwari, an undergraduate student at Kirori Mal College, DU, during her internship with The Cyber Blog India in January/February 2021.