Punuri Ram Prakash v. State of Andhra Pradesh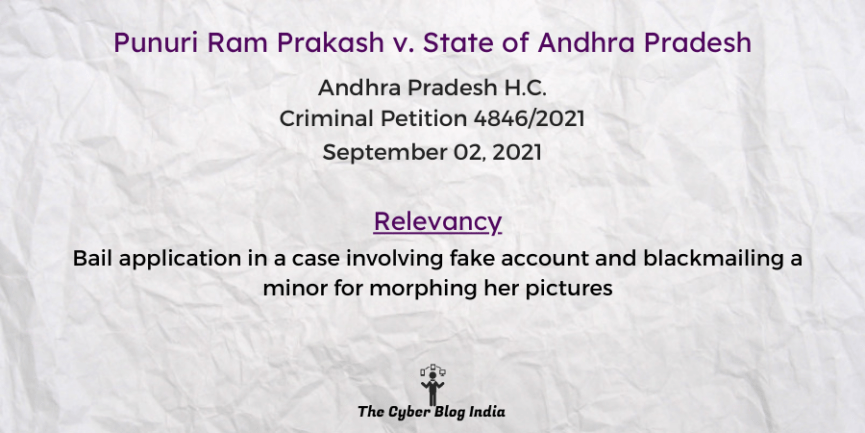 Punuri Ram Prakash v. State of Andhra Pradesh
In the High Court of Andhra Pradesh
Criminal Petition 4846/2021
Before Justice Lalitha Kanneganti
Decided on September 02, 2021
Relevancy of the Case: Bail application in a case involving fake account and blackmailing a minor for morphing her pictures
Statutes and Provisions Involved
The Code of the Criminal Procedure, 1973 (Section 437, 439)
The India Penal Code, 1860 (Section 354D, 384, 506)
The Information Technology Act, 2000 (Section 66D)
The Protection from Children from Sexual Offences Act, 2012 (Section 12)
Relevant Facts of the Case
The accused created an account on Instagram impersonating a lady. Further, he sent a request to the complainant who believed that it was a lady and accepted the request.
Using the fake account, the accused requested the complainant to arrange money in the name of the lady. He did not in the same of a medical emergency. The complainant paid a total amount of ₹85,000.
Later, the complainant requested for returning her money. The accused blackmailed her and demanded additional money. He also threatened the complainant that he would morph her photos and upload them on Instagram if she did not pay.
Moreover, the accused also allegedly met the complainant at her home on July 05, 2021, at 8 AM.
Opinion of the Bench
The complainant paid this amount without her parents' knowledge and she is only an intermediate student.
There is an obsessive delay in implicating the petitioner.
Hence, there is reasonable doubt of innocence.
Final Decision
The court granted bail to the petitioner with conditions.