Prashant Bushan & Anr, In Re (Contempt Matter)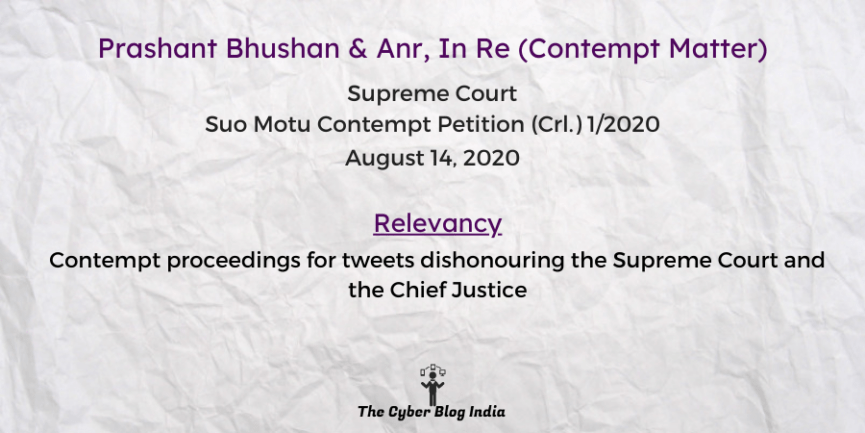 Prashant Bhushan & Anr, In Re (Contempt Matter)
(2021) 1 SCC (Cri) 502 : (2021) 1 SCC 745
In the Supreme Court of India
Suo Motu Contempt Petition (Crl.) 1/2020
Before Justice Arun Mishra, Justice B.R. Gavai, and Justice Krishna Murari
Decided on August 14, 2020
Relevancy of the Case: Contempt proceedings for tweets dishonouring the Supreme Court and the Chief Justice
Statutes and Provisions Involved
The Information Technology Act, 2000 (Section 79)
The Constitution of India (Article 14, 19, 21, 129, 142, 215)
The Contempt of Courts Act, 1971 (Section 2(c), 3, 4, 5, 10, 11, 12, 13, 14, 15, 17, 22, 23)
Relevant Facts of the Case
Prashant Bhushan posted two tweets on Twitter that allegedly dishonoured the Supreme Court of India and the office of the Chief Justice of India. These tweets appear to have reduced public confidence in these institutions.
As a result, the Supreme Court initiated the contempt proceedings against Prashant Bhushan and Twitter Inc.
Prominent Arguments by the Advocates
Mr Bhushan's counsel relied on the right to freedom of speech. He submitted that the first tweet was the expression of people's pain languishing in hopes of justice in the pandemic. The second tweet is an opinion formed based on the happenings of the last six years. Both tweets criticised the conduct of the present and three former Chief Justices of India in good faith.
Further, Twitter claimed protection under Section 79 of the Information Technology Act, 2000. It submitted that it has no control over the published content. However, the tweets in question were disabled when the court took cognisance of the matter.
Both contemnors submitted that the procedure adopted in this case violates the Contempt of Courts Act, 1971.
Opinion of the Bench
The inherent power of the Supreme Court of India and the High Courts to initiate contempt proceedings cannot be taken away by any statute. Moreover, The court can initiate suo moto criminal contempt proceedings without anyone's consent.
Above all, everyone has the right to fair and positive criticism. Nonetheless, the actual or potential interference in the administration of justice leads to criminal contempt.
The tweets are against the Supreme Court and Chief Justice of India. Mr Bhushan disseminated the wrong notion among the public through Twitter that Supreme Court is denying the right of justice to people in the pandemic and has failed to protect democracy in past years.
Final Decision
Subsequently, the court held Mr Bhushan guilty and discharged Twitter Inc from all charges.