Prajwal v. State of Karnataka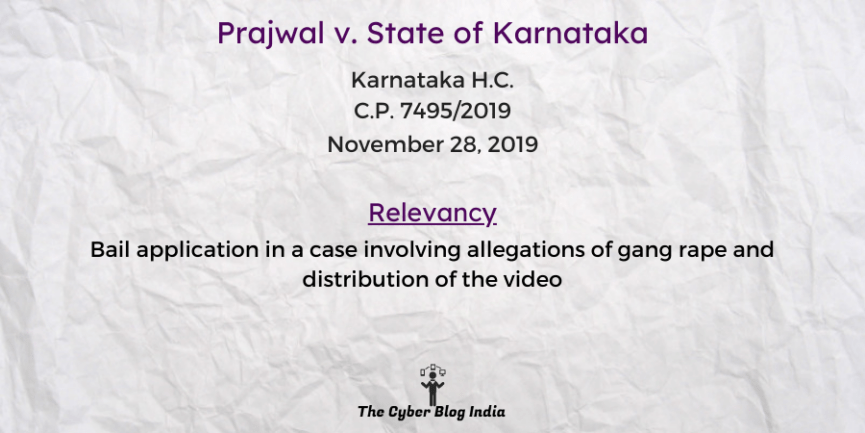 Prajwal v. State of Karnataka
In the High Court of Karnataka
C.P. 7495/2019
Before Justice K N Phaneendra
Decided on November 28, 2019
Relevancy of the case: Bail application in a case involving allegations of gang rape and distribution of the video
Statutes and Provisions Involved
The Information Technology Act, 2000 (Section 66E, 67A)
The Indian Penal Code, 1860 (Section 341, 376D, 506)
The Code of Criminal Procedure, 1973 (Section 439)
Scheduled Caste and Scheduled Tribe (Prevention of Atrocities) Act, 1989 (Section 3(1)(w)(i)(2), 3(2), 3(5))
Relevant Facts of the Case
The victim, belonging to Scheduled Caste, was studying in the same college as the petitioner.
The petitioner asked her to go to a place, and she agreed. Later, she was allegedly gang-raped and was threatened that her video would go viral if she complains.
The victim realised that the video had been circulated and then lodged a complaint against the petitioner and the other accused.
Prominent Arguments by the Advocates
The petitioner's counsel argued that there was a delay of three months between the alleged incident and the filing of the complaint. Further, he submitted that there was no resistance to the sexual act in the CD produced.
The respondent's counsel argued that the delay had been explained as there was a threat. Further, the conduct of the victim girl at this stage cannot be taken into consideration and previous antecedents in no manner amount to consent.
Opinion of the Bench
The petitioner has been in jail for more than four months and is required for further investigation.
Past antecedents, behaviour, etc., are materials to be taken into consideration during trial.
Final Decision
Petition allowed.
Bail granted with conditions.
---
This case summary has been prepared by Ria Verma, an undergraduate student at Symbiosis Law School, Noida, during her internship with The Cyber Blog India in January/February 2021.