Peddi Phani Kumar v. State of Andhra Pradesh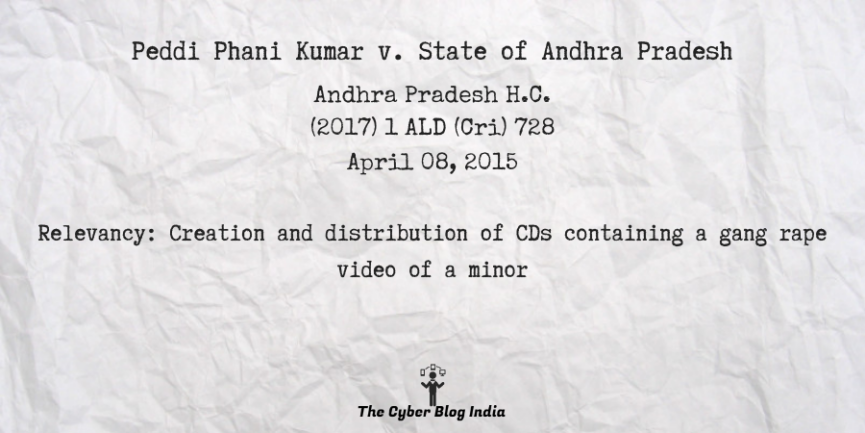 Peddi Phani Kumar v. State of Andhra Pradesh
(2017) 1 ALD (Cri) 728
In the High Court of Andhra Pradesh
Crl. A. 576, 586, 588/2010
Before Justice G. Chandraiah and Justice M.S.K. Jaiswal
Decided on April 08, 2015
Relevancy of the case: Creation and distribution of CDs containing a gang rape video of a minor
Statutes & Provisions Involved
The Information Technology Act, 2000 (Section 66, 67)
The Indian Penal Code, 1860 (Section 109, 366, 376, 292, 384)
The Indecent Representation of Women (Prohibition) Act, 1986 (Section 6)
The Code of Criminal Procedure, 1973 (Section 313)
Relevant Facts of the Case
On 17.2.2007, the accused A1 to A10 had forcibly taken the complainant (who was a minor at the time of the incident) in an auto to a forest area, and A1 to A9 committed rape on the complainant one after the other and behaved in an inhuman manner.
The accused A10, having the knowledge that the other accused were going to commit the offence, abetted them by facilitating the other accused and further photographed the offence with the help of Sony Ericsson cell phone.
The accused threatened the complainant with dire consequences of repeating the offence and killing her if she informs the incident to anyone and out of fear.
Subsequently two years later, when the complainant was going to her friend's house, the accused A1 to A9 wanted to fulfil their sexual lust and hence threatened her that if she failed to do so, they would distribute the rape scenes video graphed by them during the incident, to the public and threw a CD at her.
The complainant on watching the CD felt humiliated and informed her parents about the incident, which lead to the filing of the complaint against the accused A11 to A14 who converted the obscene photographs of the victim into CDs and were circulating the same to the public.
 Opinion of the Bench
There is no evidence of any other witnesses regarding transmitting or selling or purchasing the CDs from A11 to A14. With no other independent evidence on record, the bench is of the opinion that it is not safe to convict them. They cannot be found guilty and they are entitled to an acquittal of the charges levelled against them.
Final Decision
The trial court rightly analysed the case and the sentence given to the accused A1 to A10 holds.
The conviction and sentence imposed by the trial court against A11 to A14 are set aside and the fine amount paid, shall be refunded.