Odisha Mining Corporation Ltd. v. State of Odisha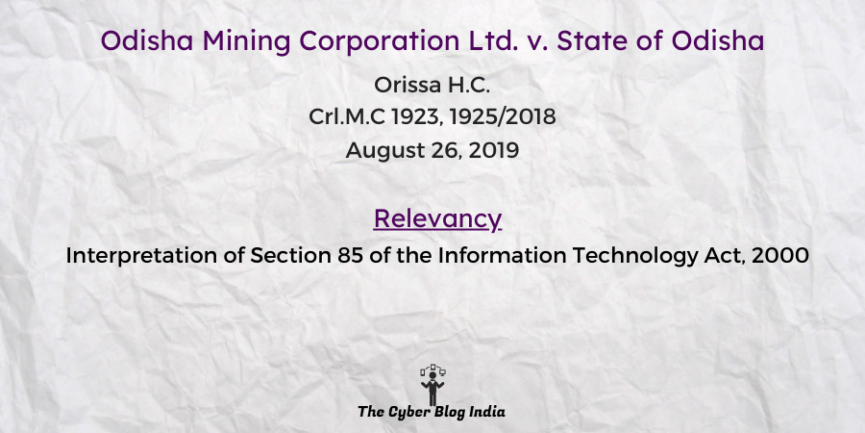 Odisha Mining Corporation Ltd. v. State of Odisha
2020 Cri LJ (NOC 353) 107
In the High Court of Orissa
Crl.M.C 1923, 1925/2018
Before Justice S.K. Sahoo
Decided on August 26, 2019
Relevancy of the Case: Interpretation of Section 85 of the Information Technology Act, 2000
Statutes and Provisions Involved
The Information Technology Act, 2000 (Section 85)
The Environment Protection Act, 1986 (Section 15, 16, 19)
The Negotiable Instruments Act, 1881 (Section 141)
The Code of Civil Procedure, 1908 (Section 151)
The Code of Criminal Procedure, 1973 (Section 205, 319, 482)
Relevant Facts of the Case
The petitioner company produced chromite without obtaining environmental clearance from the government.
Sub-Divisional Magistrate (SDM), Jajpur, took cognisance of the matter under Section 19 of the Environment Protection Act, 1986 and filed two cases under Section 15 against CMD, OMC, Assistant GM (Mines), DGM (Mines), AGM (Mines), Deputy Manager (Mines) and Assistant Manager (Mines) of Kaliapani and Sukrangi chromite mines.
SDM passed summon orders to the accused persons. This petition seeks to quash these orders.
Prominent Arguments by the Advocates
The respondent's counsel questioned the petitioner's locus standi to file the petition.
Opinion of the Bench
The court relied on the interpretation of Section 141 of the Negotiable Instruments Act, 1881, provided in Aneeta Hada v. Godfather Tours and Travels Ltd. It is necessary to make the company an accused for prosecuting its employees.
The same interpretation applies to Section 85 of the Information Technology Act, 2000 and Section 16 of the Environment Protection Act, 1986.
The proceedings against employees are invalid for want of prosecuting the company.
Final Decision
The court quashed the summon orders issued by the SDM, Jajpur.