Muskan v. State of Maharashtra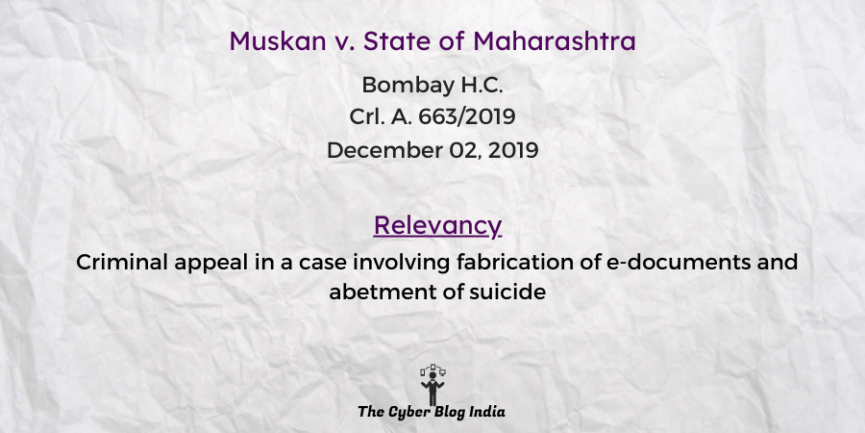 Muskan v. State of Maharashtra
In the High Court of Bombay
Crl. A. 663/2019
Before Justice Sarang V Kotwal
Decided on December 02, 2019
Relevancy of the case: Criminal appeal in a case involving fabrication of e-documents and abetment of suicide
Statutes and Provisions Involved
The Information Technology Act, 2000 (Section 67)
The Indian Penal Code, 1860 (Section 292, 323, 354A, 376, 467, 504, 506)
Relevant Facts of the Case
Four people committed suicide and one of the letters contained the name of the applicant's brother.
The letter also mentioned that the applicant has forged e-documents like driving licences, passports, etc.
Prominent Arguments by the Advocates
The applicant's counsel submitted that there was nothing on record to prove that the applicant abetted the commission of suicide. Further, the allegations of creating forged documents cannot be the only ground for abetment. The applicant was residing in Dubai for the past two years, which can be verified through her passport entries.
The respondent's counsel opposed any grant of relief. He produced evidence in the form of an audio-video recording showing the applicant's involvement.
Opinion of the Bench
The only reference against the applicant is that the applicant was trying to get friendly with one of the deceased to usurp his property. Besides this, there is no reference to the applicant's immediate conduct in respect of the allegations of abetment to commit suicide.
Final Decision
Application
Interim relief granted.
---
This case summary has been prepared by Anushka Ojha, an undergraduate student at Bharati Vidyapeeth New Law College, Pune, during her internship with The Cyber Blog India in May/June 2021.