Munirul & Ors. v. State of Kerala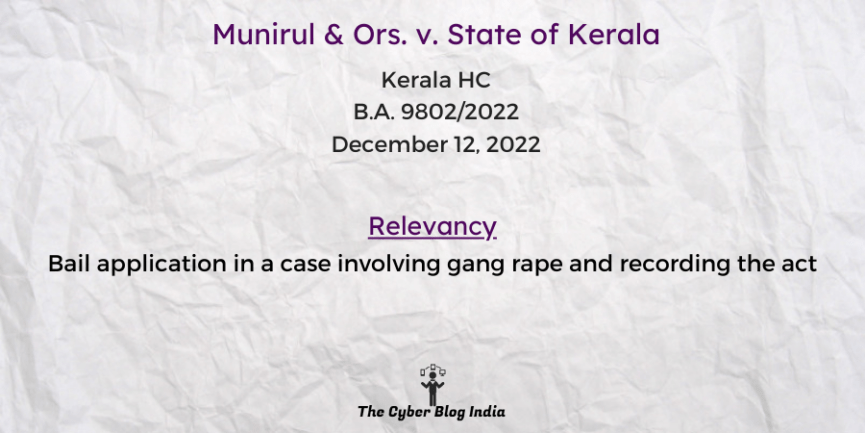 Munirul & Ors. v. State of Kerala
In the High Court of Kerala
B.A. 9802/2022
Before Justice Bechu Kurian Thomas
Decided on December 12, 2022
Relevancy of the case: Bail application in a case involving gang rape and recording the act
Statutes and Provisions Involved
The Information Technology Act, 2000 (Section 66E)
The Indian Penal Code, 1860 (Section 376, 341, 323, 506, 354, 376D)
Relevant Facts of the Case
The first accused raped the victim, a 19 -year- old girl, with the petitioners' help and threatened to kill her.
The third accused, the second petitioner in this case, captured the incident on his mobile phone.
The petitioners have been in custody for 21 months.
Prominent Arguments by the Advocates
The petitioner's counsel submitted that the prosecution's allegations were false. The petitioners had absolutely no rule in this incident. The first petitioner had approached the High Court earlier to expedite the proceedings. However, the public prosecutor submitted that reports from the Forensic Science Laboratory and Chemical Examination Lab were awaited. Moreover, the case has been transferred from one court to another, so there is no possibility of immediate trial.
The public prosecutor opposed the grant of the bail. He submitted that the allegations were severe in nature. The petitioners are from West Bengal, and they can flee from justice. The court has previously rejected the bail applications of the second and fourth petitioners. As for the second petitioner, the court should not show any leniency as he recorded the incident on his mobile phone.
Opinion of the Bench
The petitioners have been in custody for more than 21 months. The possibility of an immediate trial is remote.
Merely because the petitioners are from a different state, it is not a reason to deprive their liberty indefinitely without a trial.
Moreover, the first and third petitioners are very young in age.
Final Decision
The court granted bail to the first and third petitioners while rejecting it for the second petitioner.
---
Aparna Ajay, an undergraduate student at Symbiosis Law School, Hyderabad, prepared this case summary during her internship with The Cyber Blog India in January/February 2023.