Micky Shrivastava v. State of Maharashtra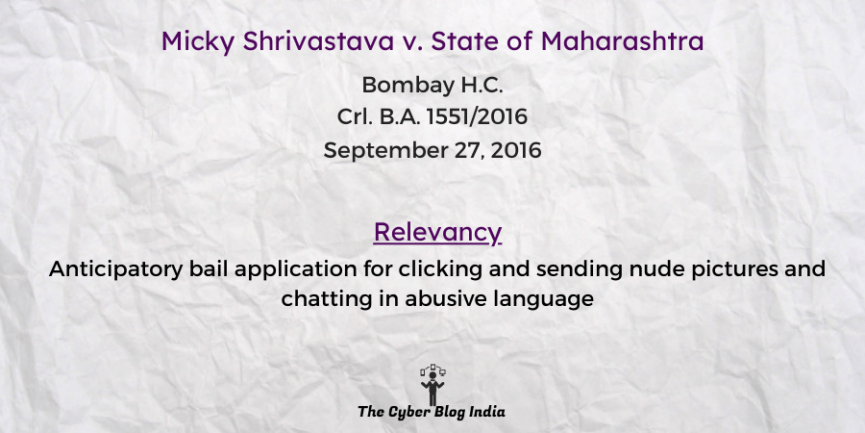 Micky Shrivastava v. State of Maharashtra
In the High Court of Bombay
Crl. B.A. 1551/2016
Before Justice Sadhana S Jadhav
Decided on September 27, 2016
Relevancy of the case: Anticipatory bail application for clicking and sending nude pictures and chatting in abusive language
Statutes and Provisions Involved
The Information Technology Act, 2000 (Section 67)
The Indian Penal Code, 1860 (Section 354A, 354D, 384, 385, 507, 323, 504, 376(1), 376(2))
The Code of Criminal Procedure, 1973 (Section 438)
Relevant Facts of the Case
The complainant and applicant number 1 were in a relationship before the complainant got married to someone else.
After her marriage, the said applicant allegedly abused the complainant on the phone.
Applicant number 2, wife of applicant number 1, sent nude pictures of the complainant to the complainant's husband. Applicant number 1 had captured those pictures.
Further, applicant number 1 allegedly threatened and coerced the complainant to have sexual intercourse with him.
Opinion of the Bench
The court concluded that applicant number 2 did send nude photographs of the complainant to her husband.
She also chatted with the complainant in very lewd and vulgar language.
Final Decision
The anticipatory bail appeal was rejected.