Manpreet Singh v. State of Punjab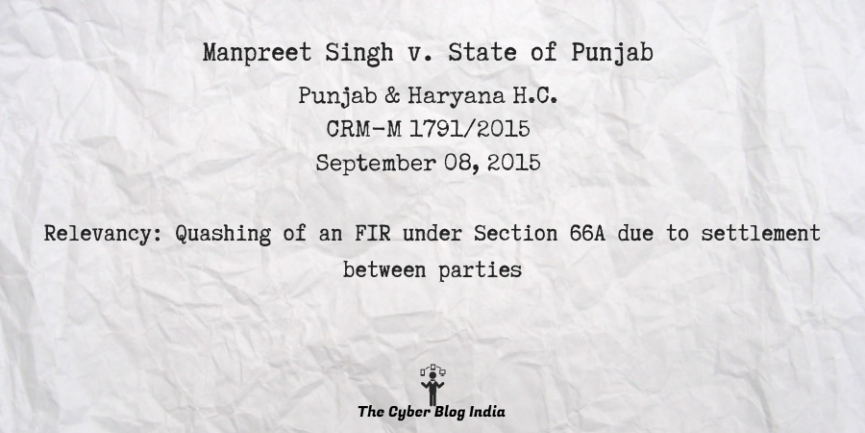 Manpreet Singh v. State of Punjab
In the High Court of Punjab & Haryana
CRM-M 1791/2015
Before Justice Jaswant Singh
Decided on September 08, 2015
Relevancy of the case: Quashing of an FIR under Section 66A due to settlement between parties
Statutes and Provisions Involved
The Information Technology Act, 2000 (Section 66A)
The Indian Penal Code, 1860 (Section 294, 506, 509)
The Code of Criminal Procedure, 1973 (Section 482, 320)
Relevant Facts of the Case
It was alleged that the petitioner had threatened to kill the complainant on 15.07.2011, through various mobile and landline calls.
FIR had been registered under Sections 294, 506, 509 of the Indian Penal Code, 1860, and Section 66A of the Information Technology Act, 2000 in Gurdaspur Police Station.
There is a settlement between the parties and this petition is filed for quashing of the FIR.
Opinion of the bench
Relying upon S Joshi v. State of Haryana, the bench stated that the High Court in the exercise of its inherent powers under Section 482, can quash criminal proceedings or FIR/complaint, and is not barred from doing so by Section 320 of the Code of Criminal Procedure, 1973.
Final Decision
The petition was allowed and the FIR was quashed.
---
This case summary has been prepared by Shrawani Mohani, an undergraduate student at ILS Law College, Pune, during her internship with The Cyber Blog India in January/February 2021.