Manoj Mathew v. State of Kerala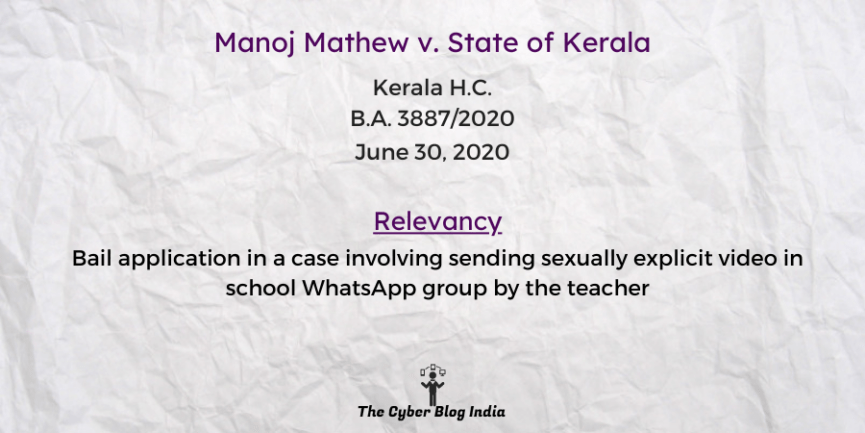 Manoj Mathew v. State of Kerala
In the High Court of Kerala
B.A. 3887/2020
Before Justice Raja Vijayaraghavan V
Decided on June 30, 2020
Relevancy of the case:  Bail application in a case involving sending sexually explicit video in school WhatsApp group by the teacher
Statues and Provisions Involved
The Information Technology Act, 2000 (Section 67A)
The Protection of Children from Sexual Offences Act, 2012 (Section 11, 12)
The Code of Criminal Procedure, 1973 (Section 439)
Relevant Facts of the Case
The applicant is a school teacher. The school was conducting online classes due to the COVID-19 pandemic. Also, the school management started a WhatsApp group with teachers and parents.
The applicant shared an explicit video in the Whatsapp group. The group members, including minors, saw the video.
The police registered the case against the applicant. Subsequently, the applicant has sought bail through this petition.
Prominent Arguments by the Advocates
The petitioner's counsel submitted that the applicant accidentally forwarded the video to the WhatsApp group. Further, the content of the video was not explicit. The applicant also tried to delete the video.
Opinion of the Bench
The applicant has no previous criminal record.
He has served detention in the present case. The investigation is in the final stages.
Final Decision
The court granted bail with conditions.