Manjeet Singh v. State of H.P.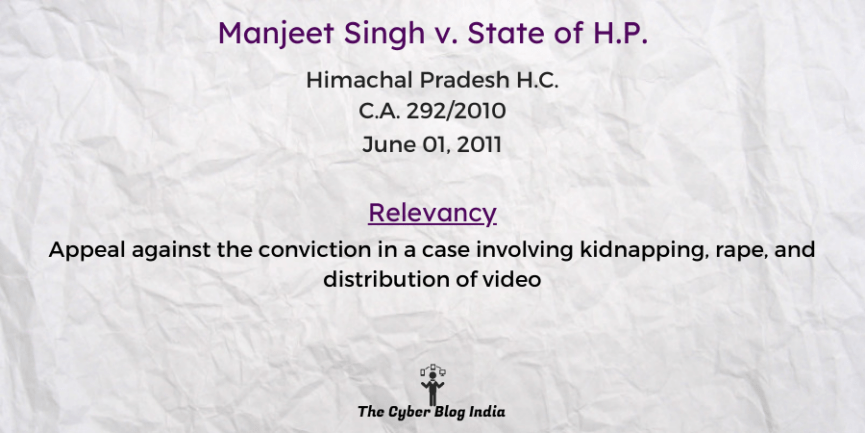 Manjeet Singh v. State of H.P.
In the High Court of Himachal Pradesh
C.A. 292/2010
Before Justice Surinder Singh
Decided on June 01, 2011
Relevancy of the case: Appeal against the conviction in a case involving kidnapping, rape, and distribution of video
Statutes and Provisions Involved
The Information Technology Act, 2000 (Section 67)
The Indian Penal Code, 1860 (Section 354, 366, 506)
The Indecent Representation of Women (Prohibition) Act, 1986 (Section 6)
Relevant Facts of the Case
The applicant allegedly took PW1 & PW2 (both school-going girls) in his car, took them to a hotel, forcefully recorded them without clothes on his mobile phone, and molested them.
Further, he allegedly used these pictures and videos to threaten the girls and coerced PW1 to form sexual relations with him.
He was convicted of recording their obscene and sexually explicit video, publishing and transmitting the same, and molesting them. Here, he has appealed against the same.
Prominent Arguments by the Advocates
The petitioner's counsel argued that the prosecutrixes are hostile witnesses. Thus, their statement cannot be taken. Further, that PW1 and PW2 sat in the applicant's car out of their own free will. Lastly, the punishment given is more than the maximum punishment prescribed under Section 67 of the Information Technology Act, 2000 (two years).
Opinion of the Bench
Through the statements of PW1 and PW2, case for kidnapping and rape is not made out.
Evidence for sharing nude photographs and obscene videos is available. Thus conviction for them stands affirmed.
The sentence under Section 67 should be reduced to two years.
Final Decision
Appeal partly allowed.
As the applicant had already served more than the sentence, he was released immediately.
---
This case summary has been prepared by Neelangini Tiwari, an undergraduate student of Kirori Mal College, DU, during her internship with The Cyber Blog India in January/February 2021.