Manaf V.B. v. State of Kerala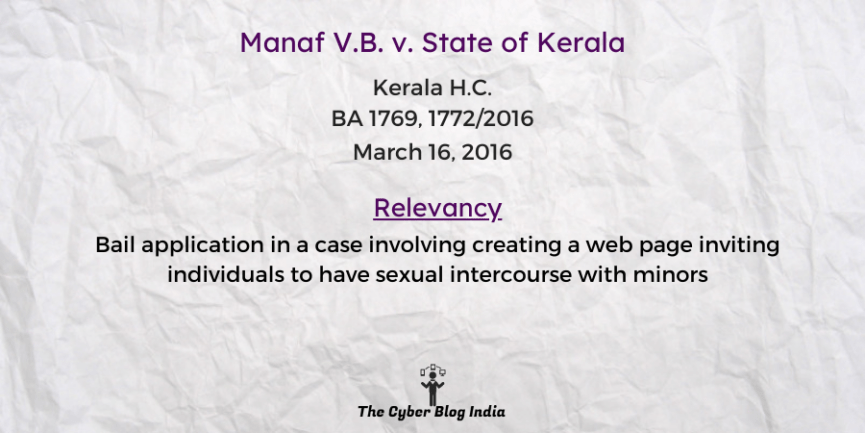 Manaf V.B. v. State of Kerala
In the High Court of Kerala
BA 1769, 1772/2016
Before Justice B. Sudheendra Kumar
Decided on March 16, 2016
Relevancy of the Case: Bail application in a case involving creating a web page inviting individuals to have sexual intercourse with minors
Statutes and Provisions Involved
The Indian Penal Code, 1860 (34, 120B, 212, 366A, 370)
The Information Technology Act, 2000 (Section 66C, 67)
The Protection of Children from Sexual Offences, 2012 (Section 13(b), 13(c), 14)
The Immoral Traffic (Prevention) Act, 1956 (Section 4, 5)
Relevant Facts of the Case
The petitioners and others created a webpage on locanto.in that showed sexually explicit pictures of minor children with obscene comments.
They advertised this webpage and circulated it over the internet. These advertisements invited individuals to have sexual intercourse with minors in safe places for a negotiable cost.
The accused engaged in the trafficking of minor girls for the purpose of sexual exploitation from places in and outside Kerala.
They also published media depicting children in sexually explicit acts.
The petitioners also helped some of the accused persons in the present case to abscond while the investigating authorities were trying to apprehend them.
Prominent Arguments by the Advocates
The public prosecutor opposed the bail application. He submitted that there were serious allegations against the petitioner. He has also transported minor children to foreign children.
The petitioner's counsel maintained that petitioners are innocent. He stated that the only allegation against petitioners is protecting some offenders.
Opinion of the Bench
These are serious allegations raised against the petitioners. These allegations affect the morale of society.
Granting bail at this stage will mean that the petitioners will likely repeat similar offences.
Final Decision
The bench dismissed the bail application.