Kalidas R. v. State of Kerala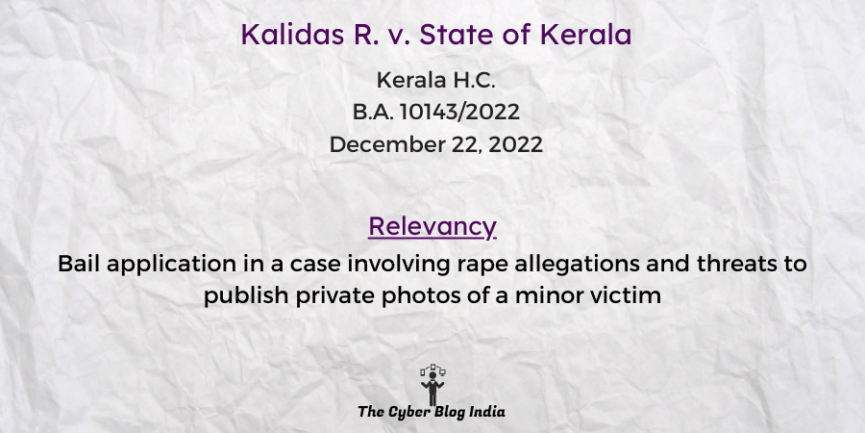 Kalidas R. v. State of Kerala
In the High Court of Kerala
B.A. 10143/2022
Before Justice Bechu Kurian Thomas
Decided on December 22, 2022
Relevancy of the case: Bail application in a case involving rape allegations and threats to publish private photos of a minor victim
Statutes and Provisions Involved
The Information Technology Act, 2000 (Section 66E)
The Indian Penal Code, 1860 (Section 376(2)(n), 384)
The Protection of Children from Sexual Offences Act, 2012 (Section 3, 4)
Relevant Facts of the Case
The petitioner had physical relations with the minor on the promise of marriage.
He allegedly raped the minor and threatened to publish the victim's private videos.
The accused, under such threat, extorted money and gold from the victim.
Prominent Arguments by the Advocates
The petitioner's counsel contended that due to the young age of the accused and the alleged romantic relationship between the accused and victim, an extended period of detention of the petitioner should not be allowed. The counsel argued that the accused had been in detention for 2 months.
The respondent's counsel submitted that the grant of bail to the accused should not be accepted and the victim's minor age should be given due consideration.
Opinion of the Bench
The accused has already been in detention for an extended period; further detention is unjustified.
Final Decision
The court granted bail to the petitioner, subject to conditions.