Irfan v. State of Madhya Pradesh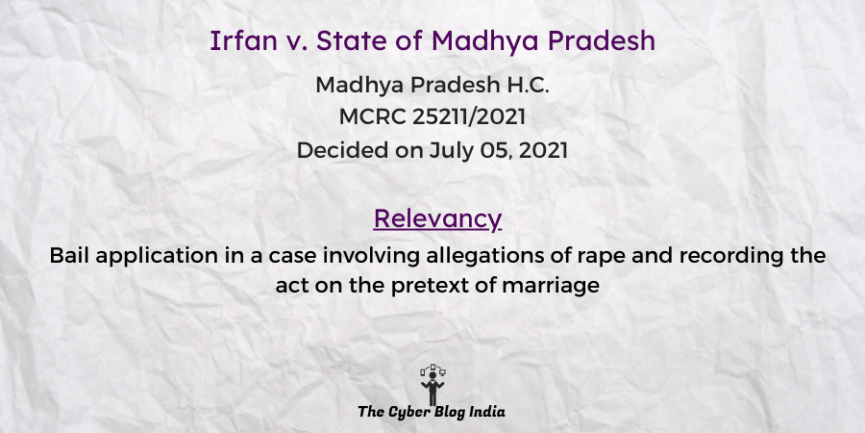 Irfan v. State of Madhya Pradesh
In the High Court of Madhya Pradesh
MCRC 25211/2021
Before Justice Shailendra Shukla
Decided on July 05, 2021
Relevancy of the Case: Bail application in a case involving allegations of rape and recording the act on the pretext of marriage
Statutes and Provisions Involved
The Information Technology Act, 2000 (Section 66E)
The Indian Penal Code, 1860 (Section 328, 342, 376, 312, 313, 318)
Relevant Facts of the Case
The applicant expressed love to the prosecutrix and wanted to marry her. On 29.04.2018, the prosecutrix went for a reception, and the applicant picked her up. He took her to a one-room house, drugged and raped her while recording and taking photographs of the act on his mobile camera.
The applicant also threatened to make the video and photographs viral if the prosecutrix didn't continue with the physical relations.
Marriage was solemnised, but soon after, the applicant sought an annulment.
Prominent Arguments by the Advocates
The petitioner's counsel submitted that the police had not recovered any photographs or video from the applicant. The counsel also stated that the prosecutrix pressurised the applicant to enter into a Nikah with her. Further, there is no reasonable explanation for the delay in lodging the FIR.
The respondent's counsel submitted that the applicant established physical relations only on the promise of getting married to her. When he found that the prosecutrix was pregnant; he solemnised Nikah to escape the prosecution. Therefore, The accused had clear intentions to sexually exploit the prosecutrix.
Opinion of the Bench
The bench agreed with the petitioner's contention that the police had not recovered any photographs or videos.
However, it noted that the applicant solemnised the marriage only to escape prosecution from the prosecutrix.
Sexual relations as a result of false promise to marriage amount to rape.
Final Decision
The bail application stood rejected.
---
Marc Pereira, an undergraduate student at Rizwi Law College, Mumbai, prepared this case summary during his internship with The Cyber Blog India in January/February 2022.