Incentives for Mobile Assembling Units in India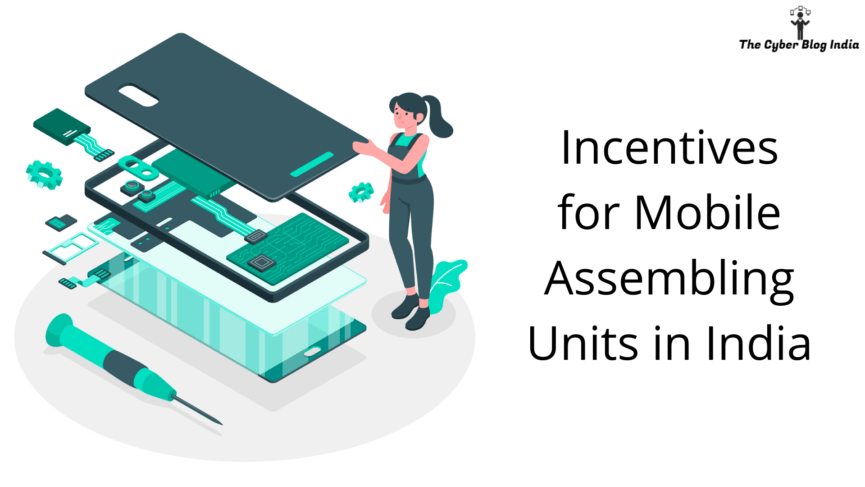 Your mobile phone consists of hundreds of different parts. There is a good chance that the manufacturing of these parts takes place at multiple locations. In this manufacturing process of mobile phones, mobile assembling units (MAU) assemble the constituent components of mobile phones to make the final product. Some parts may be available in the domestic market, while an MAU may need to import other parts. To boost this industry segment, the Government of India has taken many initiatives in the last few years.
Key Policies and Schemes
1. National Policy on Electronics, 2019
The National Policy on Electronics aims to increase the country's manufacturing capacity and encourage the export of electronic devices and their components. Further, in line with India's ambitious initiatives like Make in India, Digital India, and Atmanirbhar Bharat, domestic production opportunities have been generated. Under the National Policy on Electronics, India allows for a 100% foreign direct investment for setting up mobile phone manufacturing units, their components, and sub-assemblies. As a result, India has become the second-largest manufacturer of smartphones and mobile phones.
2. Production Linked Incentives
A notification dated April 01, 2020, introduced the Production Linked Incentive (PLI) scheme for large scale electronics manufacturing units, including assembly units. The eligible companies received an incentive of 4% to 6% on additional sales over the base year for five years. After the first phase of this scheme was successful, the second phase was launched. Similarly, The government decided to provide a 5% to 3% incentive on additional sales of certain electronic components over the base year for four years.
3. Phased Manufacturing Programme
The Union Budget of 2015-16 introduced the Phased Manufacturing Programme. This programme aimed to increase the domestic value addition by setting up a conducive mobile manufacturing ecosystem in India. Under this programme, domestic companies receive indirect financial incentives for cellular mobile handsets, components, and sub-assemblies. The government imposes the basic customs duty on the imported components in a phased-wise manner. Initially, it was limited to low-cost components like battery packs and wired headsets, but gradually, this programme has covered high-cost components.
The government adopted a differential excise duty structure to provide direct benefits to domestic manufacturers. Imports of mobile phone components attracted countervailing import duty of 12.5% and excise duty of 1%, without the input tax credit. As a result, the domestically produced mobile phone components are available at cheaper rates when compared to imported products.
In her 2021 Budget speech, Ms Nirmala Sitharaman, the Finance Minister, talked about the progress of the mobile phone industry in the country. The Finance Act, 2021 revoked custom duty exemptions on various parts of mobile phones like camera modules, connectors, USB cables, wired headsets, microphones, receivers, chargers, and printed circuit board assembly (PCBA), in continuation with the Phased Manufacturing Programme.
From April 21, 2021, the applicable customs duty is as follows:
PCBA: 2.5% + an additional 10%
Camera modules, connectors, lithium-ion battery, and battery packs: 2.5%
Moulded plastic used for chargers and adapters: 15%
Other inputs and charger parts: 10%
Is there any ACTUAL change?
The National Policy on Electronics (2019) acknowledged that 268 new units came into existence between 2015 to 2019. For instance, Samsung has set up the world's largest mobile factory in Noida, UP. It is further investing ₹4,915 crores in expanding this plant. It is also working on manufacturing the mobile display in India. The labour costs have increased in Vietnam. Therefore, Samsung appears to reduce its reliance on one country and expand its operations to other countries like India.
Similarly, Xiaomi decided to establish two new manufacturing units in February 2021, in addition to their already established units. Xiaomi is manufacturing components worth 75% of the mobile phone's value in India. In addition, Apple has also started assembling iPhone 12 series via a third-party company.
Endnotes
The policies and schemes have increased the production, but the local value addition continues to be a challenge. At present, the growth in the mobile phone industry relies on the hiked prices of products. However, to achieve real economic growth, India needs to facilitate manufacturing quality products domestically. Initiatives like Make in India have proved fruitful in increasing the industry footprint in the country. The mobile phone manufacturers and assembling companies have a positive outlook on the Indian market because of low labour and production costs. In addition, leading mobile phone manufacturers are slowly shifting their operations out of China. As a result, this has created an opportunity for India to step up. Setting up manufacturing plants is one key step in a long journey to become the global manufacturing and assembling hub for mobile phones.
---
Featured Image Credits: Technology vector created by stories – www.freepik.com