How to check if a digital loan app is genuine?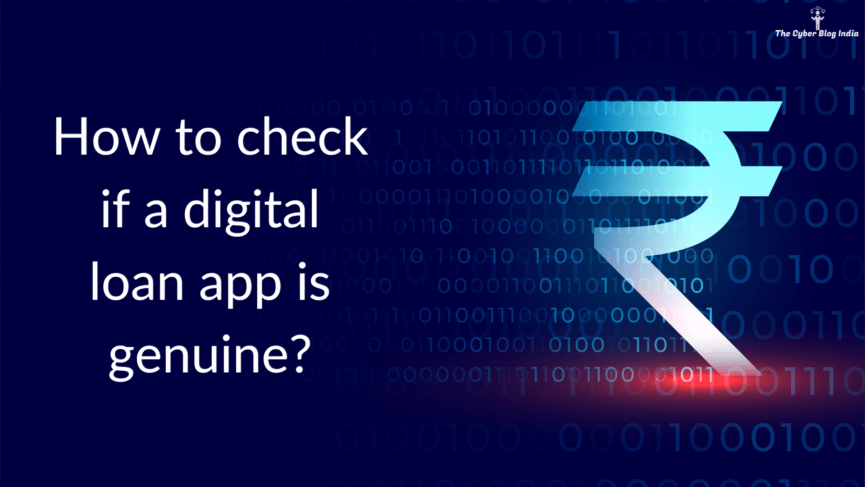 According to Pune City Cyber Police Station, the incidents of fraud and extortion through digital loan apps increased from 928 in 2021 to 3471 in 2022. The credit amount ranged from ₹1000 to ₹10000. The most common strategy of such fraudsters is to lure victims by offering loans with low interest rates, quick approval, and requiring upfront payments before loan disbursement. There are many reported incidents in the news involving China-based lending apps, leading to extortion and harassment of numerous victims across the country. With the increasing number of digital loan apps in the market, it is necessary to understand how to protect yourself from fake and unauthorised loan apps.
What is a digital loan app?
A digital loan app is a mobile application that allows users to apply for and manage loans digitally. They typically use advanced algorithms to evaluate borrowers' creditworthiness and offer loans based on their risk profile. The loan application process is usually faster and more convenient than traditional loans. Features of digital loan apps include:
Easy, fast, and 100% online application process;
Instant loan approvals and disbursals;
Digital document submission;
Online loan management and repayment;
24×7 customer support;
High degree of flexibility in the loan amount, repayment period, and other terms; and
Transparent and competitive interest rates.
Digital loan apps are a step in the right direction. However, some individuals are constantly looking to exploit the popularity of digital loan apps. With thousands of digital loan apps available in the market, we must check the credibility and authenticity of an app.
General tips for checking the credibility of a digital loan app
Look for public reviews and ratings from other users and review their experience.
Check if a digital loan app is associated with a reputable banking or financial institution.
Look for certifications or licenses from regulatory bodies such as the Reserve Bank of India.
Check the app and website for contact information and the company's registered address.
Review the terms and conditions, privacy policy, loan conditions, and fees charged.
Verify the app on official apps like Google Play Store or Apple's App Store.
Checking the credibility and authenticity of a digital loan app
RBI, India's central bank, regulates the country's financial system. To check if a digital loan app is genuine, follow these steps:
Visit the RBI's website from here to check the list of authorised non-banking financial companies (NBFCs) permitted to offer digital loan services.
Read the Terms and Conditions of a digital loan app to identify the parent company and its lending partners. Lending partners are usually banks and NBFCs if the app only acts as an intermediary. You can go to the Ministry of Corporate Affairs' website to check the registration status of the app's parent company. You will be able to see information such as the company's identification number, name, number of directors, incorporation date, registered address, email, paid-up share capital, status, and list of directors.
Personal data considerations
When you use a digital loan app, you must be aware of how much personal data the app is accessing and what they plan to do with it. Here are a few ways to understand this:
Read the app's privacy policy and terms and conditions. These documents should provide information on the data collected by an app, how it is used, and the parties it is shared with.
Check the permissions it is requesting. Permissions include contacts, location, camera, etc. Only grant those permissions that are necessary for the app to function.
Look for data encryption. A genuine reputable lender will use encryption to protect your information during transit and when it is stored. Try understanding the app's encryption mechanisms and security practices in place.
Check if you can opt out of data sharing. Some lenders may allow you to opt out of data sharing or limit the data you want to share.
End notes
If you are considering taking a loan, you should ask yourself the following questions:
Are there any user reviews that discuss the authenticity of the digital loan app?
Is the app's parent company a registered entity? Is it recently registered, or has it existed for a few years?
Is the app only an intermediary platform to connect borrowers with banks/NBFCs?
Are the app's terms and conditions and privacy policy transparent and understandable?
What security measures are adopted by the app to protect users' personal data?
Suppose you think that a digital loan app does not have adequate or sufficient information for these questions. In that case, looking for an alternative genuine and registered app is better.
---
Featured Image Credits: Image by starline on Freepik